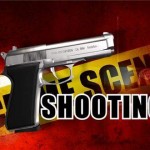 Somebody shot a pregnant woman who was sitting in a parked car at the 1900 block of West Myrtle Street, in Santa Ana. last night at about 8:37 p.m., according to the O.C. Register.
She was taken to a local hospital for treatment. The woman and her unborn child are expected to survive. 
The shooter was an unknown male suspect, according to the SAPD.
The police do not yet know if the shooting was gang-related. No suspects have been identified or arrested. The investigation is continuing.
The name of the victim and her city of residents were not released due to her age.