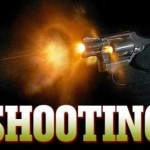 There was another shooting on Monday, August 15, 2016, shortly after 7:30 p.m. at 2000 West 1st, in Santa Ana, near N. Raitt St.
A 23-year-old male Hispanic was walking in the area when an unknown vehicle approached from behind and a male suspect exited the car. The suspect fired several times at the victim.
The victim was shot in one of his hands. He then drove himself to a local hospital and is listed in stable condition.
This shooting happened in Santa Ana's Ward 5, which is represented by Council Member Roman Reyna, who recently voted against hiring more police officers, even though the SAPD's staffing levels are at an all-time low. Reyna is up for re-election in November and is being opposed by Juan Villegas, a law enforcement officer with 26 years at the O.C. Sheriff's Department.
Crimemapping.com reports a total of 29 weapons reports in Santa Ana in just the last three days. One of my tipsters says there were even two shootings in West Floral Park on Sunday night and on Monday night.