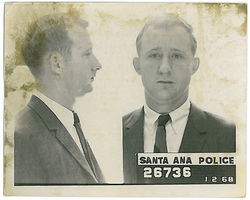 A protest taking place tonight has ruffled quite a few feathers in Santa Ana because the event organizers referred to the site of the protest as "Black Panther Park" instead of Sasscer Park.  The reference to the Black Panthers is rooted in history – but most Santa Ana residents probably don't know why the park is called Sasscer, or what the Black Panthers had to do with Sasscer in the firct place.
Santa Ana police officer Nelson Sasscer was shot while on duty on June 4, in 1969, and eventually died as a result. Sasscer was ambushed by a member of the Santa Ana Chapter of the Black Panthers, a radical group that expressed hatred for police officers and has been accused of being racist against white people.  Members and former members of the group were responsible for the murders of at least 15 law enforcement officers and the wounding of dozens more across the nation in the 1960's and 70's.
Sasscer was a Vietnam War veteran who was the SAPD's 1968 rookie of the year.   A Panther newsletter referred to Sasscer as "Rookie Pig of the Year."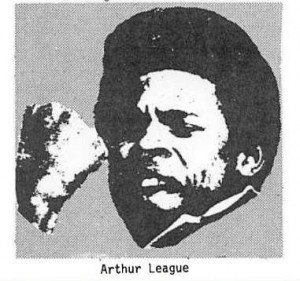 A Black Panther, Arthur League, was arrested and eventually was found to be guilty of second-degree murder.  League served seven years of a five-years-to-life sentence. He returned to Santa Ana after his release then moved to the Bay Area and never lived in Orange County again.
League continued the activist life outside of prison.  A 2005 Workers World article quoted League as saying, "When people fight back, this place is set up to make the most extreme examples of them. . . . If you've been convicted of a felony, you're a legal slave in the United States."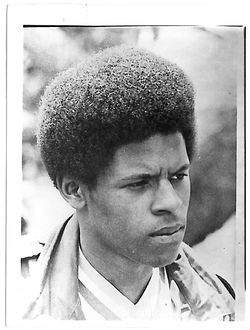 Today League remains in the Bay Area and he still maintains that he was innocent and didn't kill Sasscer.
Sasscer's death did have at least one major repercussion in that it led to the creation of the Orange County Human Rights Commission.
Daniel Michael Lynem, the former leader of the Santa Ana Chapter of the Black Panthers, regrets fostering the anti-police sentiments that led to Sasscer's murder. "I wish it never happened," he says.
Sasscer is gone but not forgotten by Santa Ana's police officers.  Every May, his name is read in the roll call at the Plaza of the Flags naming of every Orange County law-enforcement official killed in the line of duty. A Santa Ana policemen dresses as Sasscer, down to his badge number: 112.  You can also read personal comments from those who remember Sasscer and his murder, at this link.
Today anti-police fervor is once again rising, in the wake of the death of a young man named Michael Brown, at the hands of a police officer, in Ferguson, MO.  Brown is thought to have robbed a store and was allegedly walking down the middle of a street when the police officer, Darren Wilson, asked him to stop. The two ended up tussling and Wilson shot Brown repeatedly, alleging that Brown went for his gun then charged at him.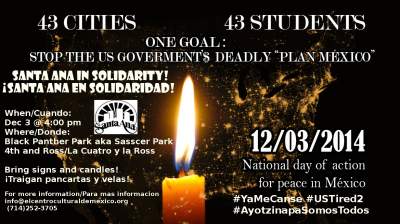 Tonight's protest actually has nothing to do with Brown but rather has to do with the disappearance of 43 students in Mexico, after a Mayor allegedly asked the local police to get rid of them.  The Mexican police reportedly turned the students over to a drug gang, who is said to have killed the students and hid their remains.
It is a shame that the event organizers have chosen to glorify cop killers in their event flier.  What is the sense of doing this?  Sasscer was innocent and killing him deprived our city of the services of a fine young police officer who was just beginning his career in law enforcement.
(An article by the OC Weekly was the source for much of the material in this post.  Click here to read that article.)