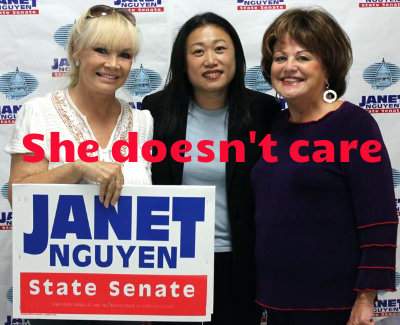 MEDIA ADVISORY: October 28, 2014
Contact: Lynn Nguyen, 714-488-6506
Vietnamese community blasts Janet Nguyen for poverty wages
Caregivers who make just $9.30/hour will hold street demonstration in Westminster on Thursday
On October 30th, the Vietnamese community along with other members of the homecare community, are coming together to demand that Orange County Supervisor Janet Nguyen help local caregivers, seniors, and people with disabilities. Nearly 200 Vietnamese community members will gather to protest poverty wages for caregivers and demand better from our elected leaders.
In Orange County there are as many as 18,000 caregivers through the state's In-Home Supportive Service program (IHSS), 4,000 of whom are Asian women, many are Vietnamese. Homecare workers provide care to our county's most vulnerable residents, yet they are only paid $9.30/hour and haven't seen a raise in over five years. Caregivers are asking the county for a seventy-five cent raise, which would be reimbursed by the state of California.
Caregiving is the fastest-growing occupation in the country and yet homecare workers in Orange County barely make above minimum wage. Nationwide many homecare workers, the majority of whom are women and people of color, depend on public assistance. In Orange County, Janet Nguyen and the Board of Supervisors have offered caregivers a raise of just twelve pennies and is refusing to invest available state and federal dollars into care for local residents in need.
Who: Vietnamese community members, local caregivers and homecare clients
What: Street demonstration urging County Supervisor Janet Nguyen to support caregivers, seniors and people with disabilities
Where: 9200 Bolsa Avenue, Westminster CA 92683
When: October 30, 2014, 11:30am – 1:30pm
Why: To challenge Janet Nguyen to stand with caregivers and agree to the seventy-five cent raise—12 pennies is not enough!
###