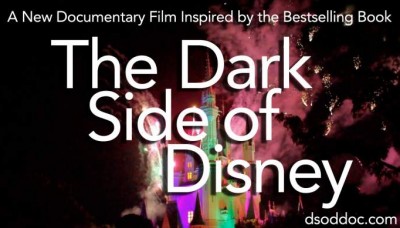 The Dark Side of Disney is a new unauthorized documentary film inspired by the bestselling book, which has become known as the "anarchist cookbook of Disney travel guides." It will premiere at the Frida Cinema in Santa Ana, California on Sunday August 16th at 4:30PM, coinciding with the D23 Expo, the world's largest Disney Convention.
The opening scene is a conversation between the director and his mother talking about how she scattered his grandmother's ashes in the moat of Cinderella castle at Walt Disney World.  Inspired to find other Disney fans who, like his mom, take their Disney passion to extreme lengths, the filmmaker travels to Orlando to investigate what causes certain Disney fans to cross the line over to the dark side.
While filming, director Philip B. Swift discovers a community of people who identify as Darksiders.They are urban explorers who jump off the rides and film behind the scenes at the park, counterfeiters who create fake Disney employee ID badges to sneak into the Magic Kingdom utilidors, "Disney gang" members, podcasters looking for an offline connection in the real world, and drug addicts driven to Epcot to see the yacht rock stylings of Christopher Cross. All are featured in the documentary that has been called, "eyeopening," "hilarious," and "heartfelt."
The screening will be followed by a Q&A with the Dark Side of Disney filmmaker and participants from the film including:
This film, like the book it's based on, is in no way authorized by Disney.
An online version of the film is available for preview and review purposes upon request.
$5 off pre-order tickets at http://www.dsoddoc.com/.