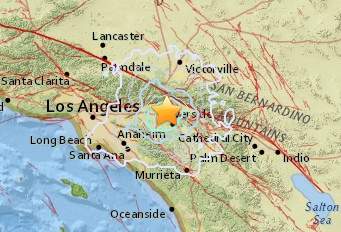 A preliminary report by the U.S. Geographical Survey (USGS) indicated that a 4.3 magnitude earthquake struck this morning at 5:54 a.m., centered in the Fontana, CA area.
Preliminary Earthquake Report: Magnitude 4.3
Date-Time: 25 Jul 2015, 04:54:06 standard time in your timezone
Location 34.094N 117.443W
Depth 4 km
Distances:
0 km (0 mi) WNW of Fontana, California
5 km (3 mi) WNW of Bloomington, California
6 km (3 mi) W of Rialto, California
9 km (5 mi) NNE of Glen Avon, California
502 km (311 mi) W of Phoenix, Arizona
The USGS categorized this shaker as weak-light.
Click here to review earthquake preparedness guides by the Red Cross of Southern California.