FOR IMMEDIATE RELEASE
February 1, 2016
MAN RUNNING THROUGH SANTA ANA, CA TO BREAK COAST-TO-COAST WORLD RECORD
Santa Ana, CA — Ultrarunner Adam Kimble, 29, races to break a 36-year-old Guinness World Record for the Fastest Crossing of America (USA), on foot, by a male. On February 15, 2016, Kimble will run the Santa Ana River Trail, through Santa Ana, CA, on his 3,030 mile cross-country route. He runs to break the current record of 46 days, eight hours, and 36 minutes in just 45 days.
Kimble attempts to break the record for three reasons: First, "To inspire people to pursue their passions…accomplishing things they never thought they could do. [Second,] to push the limits of my mind and body," and third, to raise awareness for impossible2Possible: an organization working to "empower our next generation…to push beyond their perceived limits, and achieve the impossible."
Kimble hopes to break the current record in 45 days by running, jogging, and power-walking at a 13-minute-mile pace. He will average running 69 miles per day, traveling through 14 states, from Huntington Beach, CA on February 15, 2016 to his completion in Times Square, New York City on March 29, 2016.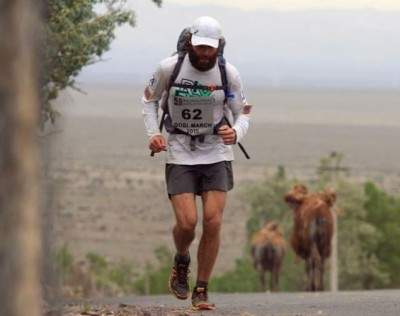 About Adam Kimble:
Kimble ran his first marathon in 2012 and was hooked. In 2015, he finished the Boston Marathon in 2:56:45 and his current 100-mile personal record is 17:16:00.
In 2015, Kimble won first place at the international level in the Gobi March, a 155-mile (250km) race in the Gobi Desert in China – running in snow, lashing rain, unbearable heat, and finishing in a sandstorm with a time of 25:39:33. For more information, visit http://adamkimble.com.
Follow Adam Kimble:
Run with Adam Kimble on his route:
http://adamkimble.com/join/
Adam has a planned route and will be wearing a GPS tracker for people to find him and join him on his journey.
Donate to help Adam Kimble break the record:
https://www.gofundme.com/AdamsRaceAcrossUSA
The funds raised will pay for a transportation vehicle, a videographer, and other crew necessities for the cross-country journey. Any remaining funds will be donated to impossible2Possible, a nonprofit dedicated to empowering the next generation to believe they can achieve the impossible.