Support your local boy scouts! Santa Ana's historic Troop 28 is hosting their final pancake breakfast fundraiser for this year this Sunday, February 14, 2016 from 8 a.m. to 10 a.m., at the First Congregational Church, located at 2555 Santiago Street, in Santa Ana.
Come on down and have a great breakfast cooked by the Boy Scouts!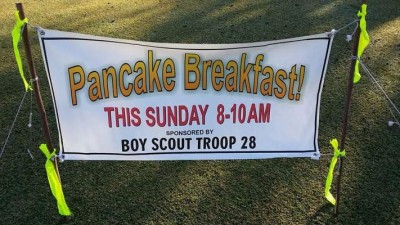 Both events will feature freshly made pancakes, scrambled eggs, sausage, and orange juice and coffee, for a $5 donation.
The money raised by these events will help support Troop 28's camping trips and hiking adventures. What a great way to help our Santa Ana boys to become good men.
Donations gladly accepted!