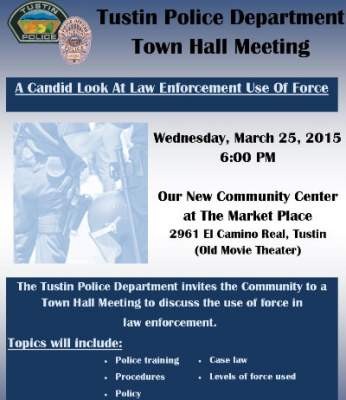 Tustin, CA Police Department
Community Alert: A Candid Look at Law Enforcement Use of Force
On Wednesday, March 25, 2015, The Tustin Police Department will be hosting a Town Hall meeting at the new City of Tustin Community Center in the Tustin Market Place. The Town Hall Meeting is open to the public and members of the community are encouraged to attend.
The topic of this Town Hall Meeting will be "A Candid Look at Law Enforcement Use of Force." The presentation will be conducted by members of the Tustin Police Department.
The meeting will begin at 6:00 pm, the Community Center is located at 2916 El Camino Real, it is the former movie theater located next to Rubio's.
###