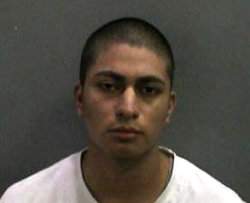 ORANGE COUNTY DISTRICT ATTORNEY PRESS RELEASE
Case # 12WF2895
Date: March 23, 2015
MAN TO FACE TRIAL FOR ATTEMPTED MURDER OF FEMALE JOGGER BY STABBING HER MULTIPLE TIMES
WESTMINSTER – A man is expected to face trial tomorrow for the attempted murder of a female jogger by stabbing her multiple times. James Anthony Rivas, 20, Rossmoor, is charged with one felony count each of attempted murder, assault with a deadly weapon, and mayhem, with sentencing enhancements for premeditation and deliberation for the attempted murder, great bodily injury and personal use of a deadly weapon. If convicted, he faces a maximum sentence of 11 yearsto lifein state prison. Opening statements are expected to begin tomorrow, Tuesday, March 24, 2015 in Department W-9, West Justice Center, Westminster. The time is to be determined.
At approximately 9:00 p.m. on Oct. 23, 2012, Rivas, then 18 years old, is accused of approaching 27-year-old Jane Doe, who was jogging through a residential neighborhood in Rossmoor.
Rivas is accused of running up behind Jane Doe, knocking her to the ground, getting on top of the victim, and stabbing her multiple times with a knife. The defendant is accused of cutting the victim's face, back, arm, and hand. Rivas is accused of picking the knife back up after Jane Doe knocked it out of his hand, while remaining on top of the victim, and continuing to stab her. The defendant is accused of fleeing the scene after a neighbor heard screaming and came outside. Jane Doe was taken to the hospital and treated for non-life threatening injuries.
At approximately 7:45 p.m. on Oct. 25, 2012, Orange County Sheriff's Department detectives, who investigated this case, arrested Rivas.
Senior Deputy District Attorney Brett Brian of the Special Prosecutions Unit is prosecuting this case.
###
TONY RACKAUCKAS, District Attorney
Susan Kang Schroeder, Chief of Staff
Office: 714-347-8408
Cell: 714-292-2718