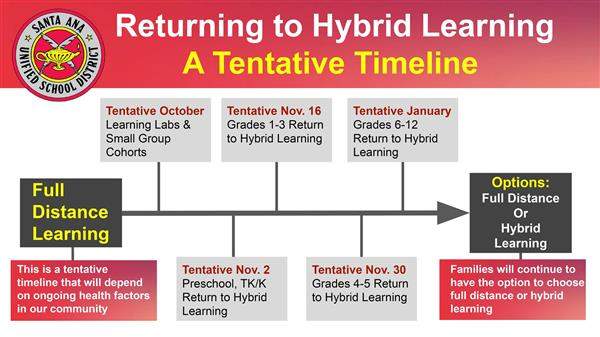 The SAUSD has posted a tentative timeline that was presented to the Board of Education on Tuesday, Sept. 22, 2020 for students to return to in-person instruction in a hybrid model.
Key dates in the proposed timeline include:
October: Learning labs and small group cohorts
Nov. 2: Preschool, TK/K Return to Hybrid Learning
Nov. 16: Grades 1-3 return to Hybrid Learning
Nov. 30: Grades 4-5 return to Hybrid Learning
January: Grades 6-12 return to Hybrid Learning
The SAUSD stated that the tentative timeline will depend on ongoing health factors in the community. Families will also continue to have the option to choose between full distance and Hybrid Learning.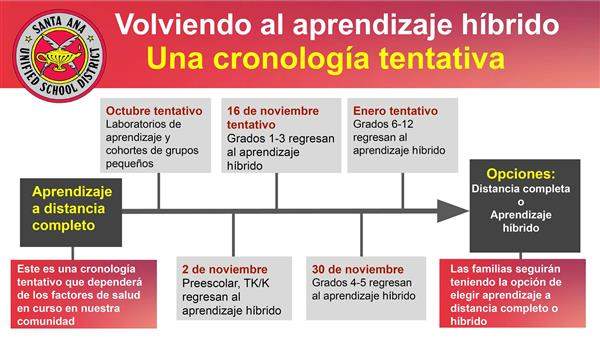 Under the hybrid model, students would attend classes on campus one or two days a week, and meet online the rest of the time.
Under the hybrid plan for elementary schools, students would be divided into two cohorts. Half the students would attend in-person classes on Mondays and Tuesdays, while the other half would attend on Thursdays and Fridays. Wednesdays would be reserved for teacher professional days.
Under the hybrid plan for secondary schools, students would be placed in one of four cohorts. Each cohort would meet on campus one day per week, with Wednesday reserved as a teacher professional day.