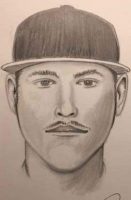 Santa Ana Police Department
Advisory: Crime Alert – Community Assistance Needed
Santa Ana Police Detectives are looking for a suspect that attempted to sexually assault an adult female in her home. The incident occurred On July 30th in the 3200 hundred block of south Main Street in Santa Ana. The victim was asleep in her living room and woke up at 2 a.m. after she heard a noise by the open front window. The victim looked towards the window and saw the suspect standing outside. The victim saw that the suspect had already removed the screen and he ordered the victim to come to the window while he simulated a handgun and threatened to shoot her.
The victim refused the suspect's demands at which time the suspect crawled through the window and attempted to sexually assault her. The victim's mother was awoken by the commotion, came out to investigate, and saw the attempted sexual assault. The mother immediately screamed for help, which caused the suspect to flee the scene. He is described as a male Hispanic, 25-30 years-old, 5'8" to 5'10", 170-190 pounds. The suspect also had short, dark hair and a mustache.
Santa Ana Police detectives are releasing a composite drawing of the suspect and are asking for the public's help in identifying him. Anyone with information is asked to call Detective Majors at 714-245-8378 or Orange County Crime Stoppers at 1-855- TIP-OCCS.