A huge shoplifting suspect identified by the SAPD as Jose Prado was caught on video as he was loading up his truck with grocery items he did not pay for, at a Santa Ana Stater Bros. supermarket parking lot, when store employees confronted him, according to ABC News.
Prado went into angry bear mode when a man in shorts and a brown shirt sauntered up to him and laid him out with one big punch!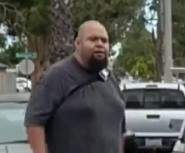 The bad news is that Prado got up and took off. The SAPD is still looking for him. He is considered a robbery suspect.
The police would also like to speak with the fellow who knocked Prado down. He is considered a witness. In our estimate he is a hero too!
In general though it is a bad idea to take on shoplifters as one never knows if the suspect might be armed. A few groceries are not worth dying for…