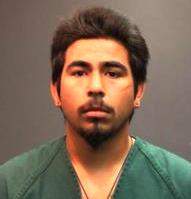 Santa Ana Police Department
Advisory: Santa Ana Police Department Arrests Suspect For Bank Robbery
Location: Schools 1st Bank (2115 N. Broadway)
Arrested: Justin Thomas Yrrarazaval (20) Santa Ana
On 5-29-15 at 9:00 A.M., an SAPD Patrol Officer observed suspect Yrrarazaval walking in the 1300 block of North Spurgeon Street. The Officer believed Yrrarazaval was the same suspect he observed on surveillance video during a bank robbery at Schools First Bank (2115 N. Broadway,) on 5-28-2015.
Robbery Detectives responded to the officer's location and transported the suspect to the Police Department where he was questioned about his involvement in the Bank Robbery. Yrrarazaval was booked into Santa Ana Police Jail on the charge of CPC 211 – Bank Robbery.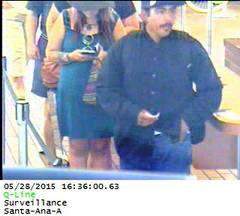 Original Case Details: On Thursday, 5-28-15 at 4:41 P.M. officers were dispatched to a bank robbery which had just occurred. The Investigation revealed that a Hispanic male suspect armed with a black handgun entered the Schools First Bank at 2115 N. Broadway, stated he had a bomb and demanded money.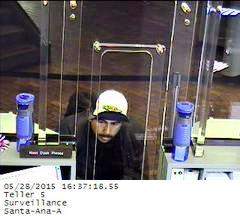 Suspect was described as a Hispanic Male Adult 20's, dark complexion, brown eyes, scar on the left cheek, wearing a trucker hat with a logo, dark blue long sleeve plaid shirt, black pants and carrying a backpack. The bank teller complied with the suspect's demands and an undisclosed amount of U.S. Currency was taken. The suspect was last seen on foot eastbound toward Main Street.
###