HUGH NGUYEN, CLERK-RECORDER
For Immediate Release: February 03, 2016
Contact: David Cabrera,  Phone: (714) 834-2083, david.cabrera@rec.ocgov.com
Clerk-Recorder to Offer Valentine's Day Marriage Ceremonies
For those looking to tie the knot on Valentine's Day, look no further. To accommodate couples, Orange County Clerk-Recorder Hugh Nguyen will be opening the Old County Courthouse in Santa Ana on this Valentine's Day from 9 am to 2 pm to perform marriage ceremonies only, even though the special day falls on a Sunday.
In order to take advantage of this opportunity, couples must obtain a marriage license, pre-pay for their ceremony and make an appointment for this special Sunday opening prior to 3 pm, February 11. Couples can obtain and pay for their marriage license, pre-pay for their ceremony and make an appointment by visiting any of the department's locations. Appointments are limited and will only be available to couples who have already pre-paid for their marriage license and ceremony.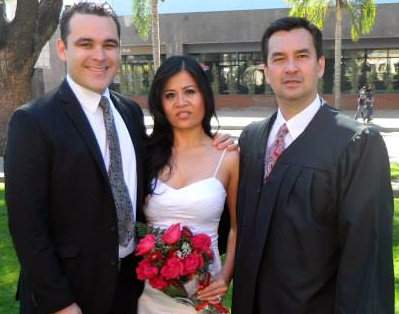 "Valentine's Day is our most popular day for ceremonies," said Clerk-Recorder Nguyen. "By opening Sunday, people will have an opportunity to marry on what many consider the most romantic day of the year." "I would like to thank my staff for volunteering to work and for making this possible for our customers," he added.
Valentine's Day is the most popular day at the department for marriage ceremonies. Last year, department staff issued 223 marriage licenses and performed 187 marriage ceremonies even though Valentine's Day landed on Saturday. The all-time record for the department was set Valentine's Day 2014. On that day, the department issued 310 marriage licenses and performed 266 ceremonies.
Orange County has one of the lowest costs for a marriage license and marriage ceremony in the state. Couples can obtain a public marriage license for $61 and a confidential marriage license for $66. A civil marriage ceremony can be performed for an additional $28.
To save time, marriage license applications can be completed online at www.ocrecorder.com prior to visiting our offices. For more detailed information, call (714) 834-2500.
###