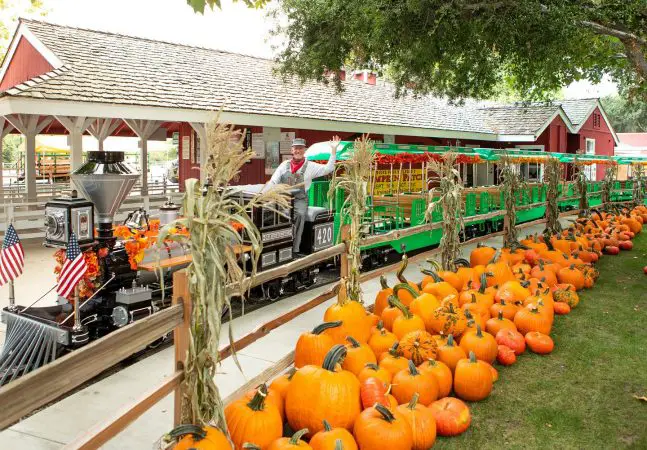 The Irvine Park Pumpkin Patch is NOW OPEN! It will run from September 16th – October 31st. All activities are open daily. Location: 1 Irvine Park Rd, Orange, CA, United States, California.
Activities
Train rides (1 ticket)
Hay rides (1 ticket)
Moon bounce (1 ticket)
Carnival games (1 ticket)
John Deere racers (1 ticket)
Cookie decorating (1 ticket)
Bank-a-ball (1-2 tickets)
Ring-a-pumpkin (1-2 tickets)
Pumpkin decorating (2 tickets)
Face painting (2 tickets)
Panning for gold (2 tickets)
Mini Diggers (2 tickets)
Hay maze (Free)
Haunted house (Free)
Hours:
Weekdays 10am to 5pm
Weekends 8am to 6pm
Pricing
No reservations required. All tickets may be purchased upon arrival.
FREE to enter
Activity tickets $7
Book of 15 activity tickets $90 (save $15)
Parking
Weekdays $3 per vehicle
Weekends $5 per vehicle
Holidays $7 per vehicle
Parking in Irvine Regional Park will become crowded on weekends. The best way to avoid delays in entering the park and encountering limited parking is to visit on weekdays or when we open on weekends.
Great Pumpkin Weigh-Off
Saturday, September 23rd, 2023 at 9:00 AM
Join us to see if pumpkin growers have what it takes to win a prize for growing the largest pumpkins! Over $8,000 in cash and prizes will be awarded. Free to spectate.
Fundraiser for Park Ranger Zak Salazar
Friday, September 29th, 2023 from 10:00 AM to 6:00 PM
50% of all ticket sales on September 29th will be donated to the Salazar family.
Supervising Park Ranger Zak Salazar was diagnosed with an 8cm malignant brain tumor. This news hit hard since his wife, Cori, is still recovering from her own cancer battle and thyroid surgery. To support Zak, his wife, and their three young daughters, we are hosting a fundraiser on Friday, September 29th from 10:00 AM to 6:00 PM.