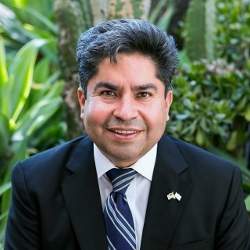 I am hearing that a group of residents in Santa Ana's Ward 3 are planning to launch a recall against their City Councilman, Jose Solorio.
The recall effort appears to be based on Solorio's support for the luxury apartment development at 2525 N. Main St., which abuts the Park Santiago Neighborhood Association. The upset residets also are saying that Solorio does not live in Ward 3.

It is true that Solorio previously lived in Ward 1 and his wife and kids still do. But Solorio rented an apartment in Ward 3 so he could run there a couple years ago. Folks doubt he spends much time in the Ward.
Parties based outside of Santa Ana have been trying for several months to launch a recall against Santa Ana City Council Members Ceci Iglesias and Juan Villegas, but so far they have kept screwing up their campaign paperwork.
The only successful recall in Santa Ana's history also got its start in north Santa Ana. That was the recall of former SAUSD Trustee Nativo Lopez, who passed away a few weeks ago. The recall backers lived in the Floral Park Neighborhood Association. Some of the same players are now plotting to recall Solorio.
I personally oppose all of these recall campaigns. These Council Members were elected by the voters and should be able to finish their terms. Folks will also have a chance to voice their displeasure with these politicians in the upcoming Mayoral election as has already announced that he is running in that race.