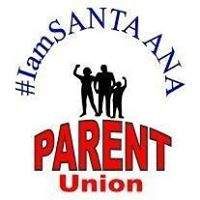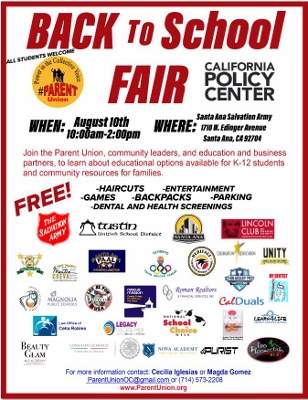 The 3rd Annual Back to School Fair is set for August 10th from 10 am – 2 pm at the Salvation Army, located at 1710 W. Edinger Ave., in Santa Ana. All parents and students are welcome!
Join the Parent Union, community leaders and education and business partners to learn about educational options that are available in Orange County for K-12 students. You can learn about local community resources as well.
This event will feature tons of free fun including:
Supplies
Games
Backpacks
Haircuts
Dental and Health Screenings
Entertainment
and free parking too!
This event is hosted by the California Policy Center. Participating organizations include:
The Salvation Army
The City of Santa Ana
The Lincoln Club of Orange County
The Santa Ana Police Athletic and Activity League
Edward B. Cole Sr. Academy
Martin Cueva
Magnolia Public Schools
Magnolia Science Academy
Law Office of Celia Robles
Los 32 Por Mexico USA
Olympic Youth Soccer League
Heritage Charter Middle School
Roman Realtors and Financial Services, Inc.
National School Choice Week
Consulado de Mexico, Condado de Orange
Beauty Glam Academy
Celebration Education
Learn4Life Concept Charter Schools
La Konsentida Radio 97.3
My Dentist
Scholarship Prep Charter School
And more!
For more information contact Cecilia Iglesias or Magda Gomez at ParentUnionOC@gmail.com or 714-573-2208. Visit ParentUnion.org.