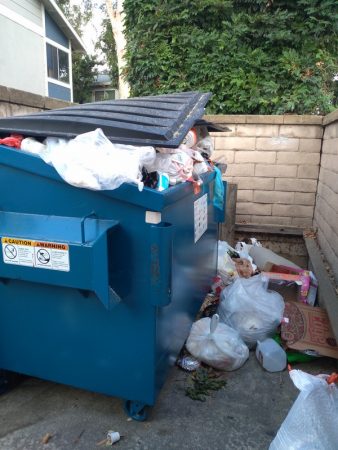 Santa Ana's new trash hauler, Republic Services, has done an awful job as they have started their new huge contract. Trash cans are going unpicked up for as long as two weeks and the complaints are piling up.
The City of Santa Ana announced last Friday that Republic Services would work on Sunday to try to catch up but it barely made much of an impact.
Who will you vote for in the OC 2nd Supervisorial District?
The situation has been compounded by City workers actually leaving nasty notices on residences that have left their trash cans out on as they hope to get them picked up eventually. The city notices advise that residents can be fined $500 dollars for a second warning and $1,000 for a third warning.
It is beyond belief that the City of Santa Ana would resort to citing residents when the real culprit is Republic Services – and the City Council majority, as well as Mayor Vince Sarmiento – who gave the trash hauling contract to Republic Services.
Exasperated residents are now talking about bringing their unpicked up trash cans to City Hall, which would be pretty hilarious.
The problem extends to local apartments and planned communities as well. Here is a note we received from a manager at a condominium complex:
We are told every day that Republic is coming, but so far the only thing they did was pick up one trash bin in our community yesterday (July 6th) leaving a mess behind. We have now been informed that the emptying of this one trash bin was considered a pick-up for our community although we have 144 units and bins throughout the complex.
I spoke with our HOA President this morning. She and our property manager have made multiple calls to the City of Santa Ana, Republic, and OC Health. At this point, we're getting the run around. The City representative (Christy) is now saying we have to hire our own vendor to come on-site and clean out the bin areas and trash overflow or Republic won't empty the bins even if Republic comes on-site which she couldn't give us a date for that either.
For 40+ years, our community has been contracted for trash pick-up on Tuesdays and Fridays, so this is not something new… someone somewhere has dropped the ball big time!
Here is another note we received from a resident –
On Tuesday, July 5 around 5:00 p.m. I called the new waste management (Republic Services) company to find out what time they were going to pick up our bins. I was told by the customer services representative that they still had until 6:00 p.m. to pick up my trash. I mentioned that I used to get notifications from the previous company letting me know about holiday and any other pick-up delays. The representative proceeded to tell me that since they are new to our city, they don't have any contact information on file to be able to do that. In addition, their website does not work properly when you input your address. She then asked me for my telephone number and email address so they could begin sending me notices which I did. 6:00 p.m. came and went and there was no pick up.

I called again this morning at 11:00 a.m. and was told the same thing that they have until 6:00 p.m. to pick up the bins. I asked the representative why they hadn't sent me a notification letting me know about the delay and was told that an account needs to be set up online in order for them to send the notices.         

By this time I was irritated and I told her what was the purpose of providing my contact information yesterday, and she said that she couldn't speak about what I was told yesterday and that I needed to create an account online. It is obvious that this new company doesn't know anything about customer service because instead of apologizing she was more concerned about getting her point across. Out of frustration with Republic Service's extremely poor customer service I just hang up. Numerous other complaints have been logged by Santa Ana residents on Nextdoor.

As of today, July 6th at 4:30 p.m. All the receptacles on numerous streets in northern Santa Ana, haven't been collected.

In addition, other residents have mentioned that they received a variety of responses from Republic Services.
There of course had been no comment on any of this by Mayor Vince Sarmiento or his City Council majority. How does Sarmiento expect to get any votes for his Supervisorial campaign in November if this keeps up?