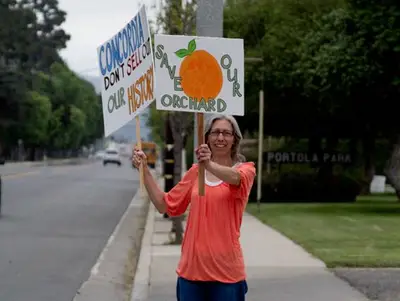 The message below is from "Save our Orchard:"
There will be an important public meeting regarding the 24-house development project proposed by TAVA Development Company on the five acre Sexlinger orange orchard site.
The city of Santa Ana Planning and Building Agency is holding a "Scoping Meeting"
WHEN: Wednesday, JUNE 1, at 6:00pm
WHERE: John Muir Fundamental School — 1951 N. Mabury, Santa Ana.
You will hear about this project and important dates and deadlines. You can also have your questions and concerns addressed.
At this meeting you will have the opportunity to get on the city's mailing list for all mailings regarding this project.
PLEASE PLAN TO ATTEND! It is crucial that we let the city know how we feel about this project at every possible opportunity.
I apologize here for any misspelling of names. Please let me know of any corrections that need to be made.
Thank you so much for your support.
—
Jeannie Gillett
defendourorchard@gmail.com
www.facebook.com/saveourorchard
"Sentiment without action is the ruin of the soul." Edward Abbey