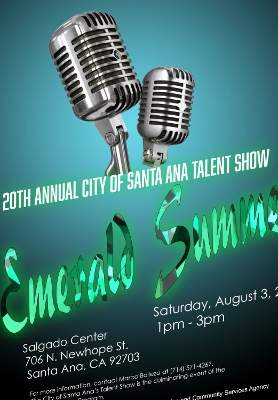 Join us for the 20th Annual Youth Talent Show taking place on Saturday, August 3, 2019 at 1:00 p.m. at the Salgado Community Center. This annual tradition invites young participants from the City's Summer Camp program to perform and share their creative talents with the community. This year's theme is "Emerald Summer" and participants from Memorial, Santa Anita, Logan, El Salvador, Salgado and the Jerome Recreation Centers have been working tirelessly throughout the summer to perfect their performances and are now ready to showcase them in this friendly city-wide competition.
Winners of this year's talent show will receive custom event medals and all participants will go home with goodie bags filled with fun treats! Along with the competitive youth performances, a few of the city's recreation instructors will also showcase their dance groups at the event. Family, friends and the general public are invited to come out and support our local talent.
The Salgado Community Center is located at 706 N. Newhope Street, Santa Ana, CA 92703. The event is free of charge and attendees are encouraged to arrive early as space and parking is limited. For more information, contact Community Services Supervisor Juan L. Lara at (714) 571-4259 or email jlara@santa-ana.org.
SANTA ANA, CA – Únase a nosotros para el 20º Show Anual de Talento que se llevará a cabo el sábado, 3 de agosto de 2019 a partir de la 1:00 p.m. en el Centro Comunitario Salgado. Esta tradición anual invita a los jóvenes participantes del programa de Campamento de Verano de la Ciudad para presentar y compartir su creatividad y talento con la comunidad. El tema de este año es "Verano Esmeralda" y participantes de los centros de recreación Memorial, Santa Anita, Logan, El Salvador, Salgado, y Jerome han estado trabajando incansablemente durante el verano para perfeccionar sus actuaciones y están listos para presentarse durante este concurso amigable de la Ciudad.
Los ganadores del show de este año recibirán medallas personalizadas y todos los participantes irán a casa con bolsitas de regalos. Junto con las actuaciones competitivas de los jóvenes, algunos de los profesores de clases de recreación de la Ciudad presentaran sus grupos de danza en el evento. Familiares, amigos y el público general están invitados a venir y apoyar a nuestro talento local.
El Centro Comunitario Salgado está localizado en 706 N. Newhope Street, Santa Ana, CA 92703. El evento es gratuito y debido a espacio y estacionamiento limitado, se le recomienda al público llegar temprano. Para obtener más información, comuníquese con el Supervisor de Servicios Comunitarios Juan L. Lara al (714) 571-4259 o al jlara@santa-ana.org.