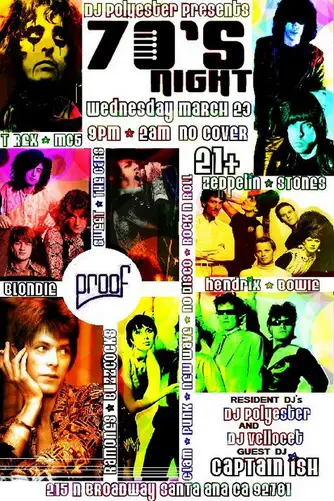 Although Hard Days Nights at Proof has lost resident DJ Michelle after 4.5 years of awesome deejaying and great tunes, she and Proof has passed the torch onto DJ Polyester to take on the nights to keep the vibe chill and the tunes rocking. Wednesday night will still stay with the rock and roll theme and true to vinyl nights.
On hump day, March 23rd come ready to have your ears blasted with some good ol' raw sounds of the 70s with resident DJs Polyester and Vellocet and a special guest DJ Captain Ish! Any bands you'd like to hear in particular, throw it on the event page, we'll do our best to throw it in!
Never a cover charge :: 9pm-2am :: 21+.  No need to RSVP, just come out!  But if you want to RSVP on Facebook, click here.
Proof is located at 215 N. Broadway, in downtown Santa Ana.