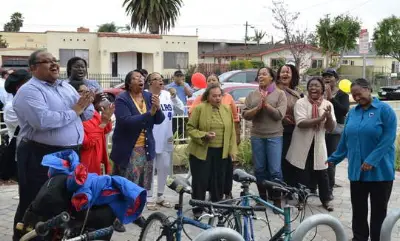 Santa Ana's Southwest Community Center is hosting a free  Thanksgiving Day Dinner Dinner for the needy on Nov. 24.  It will be served from 11:00 am – 3:00pm.  Volunteer Hours run from 8:00am—5:00pm.  Set-Up runs from 8:00 a.m. – 10:30 a.m.  The Dinner Service will run from 11:00 a.m. – 3:00 p.m. And clean up will run from 3:00 p.m. – 5:00 p.m.
The mission of the Southwest Community Center is to provide food, clothing, shelter, guidance, health, and referral services to economically disadvantaged individuals and families, and assist and encourage those whom they serve to achieve self-sufficiency.
In 1970 their founder, Annie Mae Tripp, was a domestic worker with seven children. She struggled to make ends meet, but she had a dream. She saw the hungry and homeless in the streets and she thought she could help. She began by serving meals of soup and bread to 12 homeless men from her garage. In 1971 she rented a building and began her ministry to the poor.
With three special ladies who were instrumental in founding the Center– Betty Thompson, Jean Forbath, and Bernice Ranford, Annie Mae solicited churches, people and organizations for support. Annie Mae has passed away now, but today they serve over 10,000 meals a month, distribute food baskets, clothing and provide many other services. They strive to follow in her footsteps. Annie Mae's dream has come true!
2011 Fundraising
THE PERFECT GIFT: DONATE IN LIEU OF A GIFT- WE"LL SEND THE HONOR CARD!
The Center will send your designated "giftee" a professionally printed honor card stating that a monetary gift was made by you in their honor . The card also explains that the donation will be used to improve the life of someone less fortunate and to help a fellow human find comfort and hope in your name. This is a perfect gift for someone who already has everything. CALL  TODAY AT: (714) 547-4073 … or … (714) 543-8933
You can donate online, or make a check out to "SWCC" and mail it to: SWCC, 1601 West 2nd Street, Santa Ana, CA 92703.
Friend the Center on Facebook here.