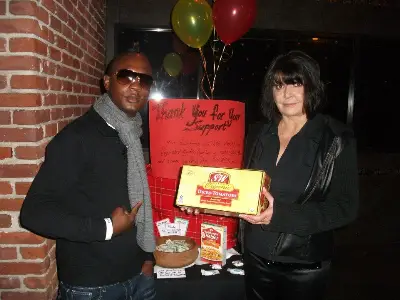 FOR IMMEDIATE RELEASE
SANTA ANA – On Thanksgiving November 24, 2011, TyRon Jackson (Mr. Gay OC) is once again taking over Hometown Buffet in Santa CA, and will host & serve Thanksgiving dinner, with all the trimmings to over 100 troubled teens & their families, Men & Women with HIV/AIDS, and other people in need, For FREE from 12:00pm-3:30pm. This is going to be an amazing event with guest speakers, entertainment, & much more!
Youth's who live in group homes, who are teased and harassed on a daily basis for either being Gay, Low income, & other reasons, and troubled students will be joining us with their families for our Thanksgiving Day Event!
Families who are having financial difficulties will be joining us for our Thanksgiving Day Event
Men & Women who are suffering from AIDS/HIV and other illnesses will be joining us for our Thanksgiving Day Event.
Today we are asking for your help! If you know a Family, Youth, Men or Women in need, or if you would like to volunteer & help encourage. Please don't hesitate to call the event organizer TyRon Jackson at (714) 363-6621
**********************************************************
Tyron Jackson, a longtime resident of Orange County, has organized numerous events for the community, including food and clothing drives, community rally's, and support for deployed US Troops, at-risk youth, those who are sick, and families in need. For over 5 years Jackson has worked full time as a Behavioral Interventionist, working with students with special needs, mainly Autism. An accomplished performer, Tyron Jackson demonstrates his willingness to serve his community and encourages others to do the same. Gay, straight, black, white, elderly, youth – it doesn't matter. Together we can, together we will bring unity back in the community."
TyRon Jackson feels helping the community begins with everyone coming together. The events and benefits that he has been a part of is to bring everyone together for a common purpose – tear down those walls, let guards down, and let's all come together to help those that need it most."
This Thanksgiving Day event is just one of the many events that will take place to help prevent Teen Bullying & Suicides, and other important issues facing our world.
For More Information, Please contact TyRon Jackson at (714) 363-6621.  Thank You!
What: Free Thanksgiving Dinner For Families in need!
When/Time: Thursday, November 24, 2011- 12:00pm – 3:30pm
Where: Hometown Buffet Santa Ana, (1008 E 17th St. Santa Ana, CA 92701)