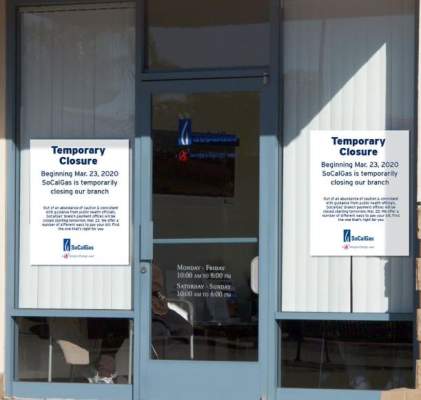 SoCalGas today announced that it has closed branch payment offices to the public and temporarily suspended some services due to COVID-19.
Customers can still pay bills in several ways:
• By dropping off payment at depository boxes at branch offices (include bill stub or account number with payment).
• Online at www.socalgas.com/pay-bill
• By phone, if paying by credit, debit card or e-check, at 1-800-427-2200
• By mail. Send bill stub with check or money order to:
SoCalGas
PO Box C
Monterey Park, CA 91756-0000
SoCalGas will continue to make essential and emergency service appointments, including reports of suspected natural gas leaks, carbon monoxide checks, gas meter turn-ons, natural gas outages and pilot re-lights. Construction projects and repair work will continue.
For now, some appliance check-ups and non-essential service calls – such as inoperative pool heaters, barbecues and fire pits – are being suspended.
SoCalGas also has suspended service disconnections until further notice. This means no customer will have their natural gas turned off due to non-payment.
For more information, go to www.socalgas.com/coronavirus.