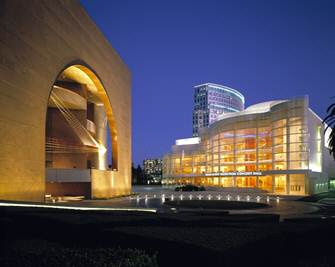 April 30, 2012
For More Information, Contact: Jenny Wedge, (949) 252.5182, jwedge@ocair.com
SEGERSTROM CENTER FOR THE ARTS FEATURED AT JOHN WAYNE AIRPORT
SANTA ANA, Calif. – A full-color exhibition of imagery and information highlighting Segerstrom Center for the Arts is on display at John Wayne Airport (JWA) through July 2012.
The display can be viewed in the Orange County: Destination Arts & Culture exhibition space, which is located along the pedestrian walkway connecting the Terminal B and C ticketing lobbies and is open to the general public, passengers and visitors to the Airport.
"John Wayne Airport is pleased to feature this eye-catching display in our new exhibition space," said Airport Director Alan Murphy. "We offer our sincere congratulations to Segerstrom Center for 25 years of artistic excellence and our thanks for providing Orange County residents and visitors with world-class performances and programs."
Segerstrom Center for the Arts President Terrence W. Dwyer commented, "We are very grateful to John Wayne Airport for providing us with this opportunity to share the Segerstrom Center story with the thousands of travelers who utilize the airport every day. The dramatic display offers a welcoming invitation to those visiting Orange County to enjoy world-class productions at the Center. It also stands as an attractive reminder that internationally acclaimed artists as well as innovative education programs are available year-round to the entire community."
The images on display are a series of photographs featuring Segerstrom Center buildings, as well as images taken at selected well-known events and education programs over the past 25 years, including a number of artists and companies arriving in the months ahead.
For more information about JWA's art program, visit www.ocair.com. For more information about Segerstrom Center for the Arts, visit: www.scfta.org.
About John Wayne Airport:
John Wayne Airport (SNA) is owned by the County of Orange and is operated as a self-supporting enterprise that receives no general fund tax revenue. The Airport serves approximately nine million passengers annually, reaches more than 20 non-stop destinations in the United States and Canada and is served by eight commercial passenger airlines. More information can be found at www.ocair.com.
# # #
You can access JWA news releases at www.ocair.com/newsroom/news