SAUSD's Valerie Amezcua Joined NALEO Educational Fund and Latino Policymakers in Nation's Capital for Policy Institute on School Governance
Two-day event equipped Amezcua and more than 40 other Latino officials with the skills and information needed to advance student success in their communities
(Santa Ana, CA) – Santa Ana Unified School District's Board of Education Clerk Valerie Amezcua joined the National Association of Latino Elected and Appointed Officials (NALEO) Educational Fund, the nation's preeminent Latino leadership organization, and more than 40 other Latino school board members and trustees from across the country for the group's National Policy Institute on School Governance.
The two-day Institute, held from March 15-16, 2016 in Washington D.C., focused on providing Latino public servants with the enhanced capacity and governance skills needed to become effective advocates for their students, families and communities. During the event, Amezcua and other participants had the opportunity to engage with leading education experts from the public, private and non-profit sectors who tackled pressing education policy and governance topics.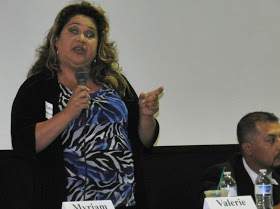 "Our students are our future workforce. As board members, we need to ensure every student is successful. I want to thank NALEO for providing this Institute so that as a board member, I am empowered to work with the other board members to implement policies and procedures," stated Valerie Amezcua, Santa Ana Unified School District Board Clerk.
The NALEO Educational Fund Institute also provided Amezcua and other Latino officials with the opportunity to network with colleagues and experts from throughout the country as they discussed various policy approaches for developing good policy and enhancing their ability to advance student success in their local communities. Amezcua covered the following during the program:
· Parliamentary Procedures
· Overview of the Every Student Succeeds Act (ESSA)
· Implications of the ESSA on State & Local Budgets
· Overview of the Budget Process
· Adjusting Roles and Increased Responsibility of Local Control with ESSA
Speakers at this year's Institute included NALEO President and City of Santa Ana Councilmember Michele Martinez, NALEO Educational Fund Chair and Dallas County Treasurer Pauline Medrano, Collaborative for Student Success Executive Director Karen Nussle, Education Law Center Executive Director David Sciarra Esq., and The Education Trust Interim Vice President for Government Affairs and Communications Daria Hall.
This event was made possible through the generous support of Title Sponsors, Bill & Melinda Gates Foundation and State Farm®. A full schedule and list of speakers is available on the NALEO Educational Fund website at http://www.naleo.org/2016_schoolgovernance.
###