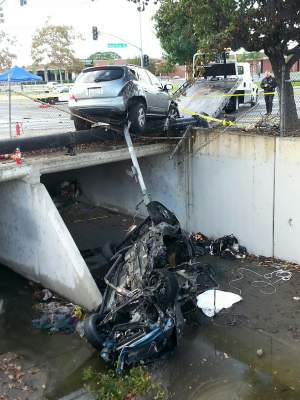 Santa Ana Police Department
Advisory: SAPD Traffic Investigators request assistance of possible witnesses to fatal traffic collision
On 11/30/14 at approximately 0318 hours, a 19 year old male was driving alone, north on Flower Street in a 2007 Nissan Murano SUV. At the same time an unidentified male subject was driving alone, east on Dyer Road in a 2002 Chrysler PT Cruiser. The two vehicles collided within the signal controlled intersection at Flower and Dyer.
The impact caused both vehicles to veer toward the northeast corner of the intersection where a traffic signal and a chain link fence were also struck. The Chrysler, driven by the unknown male subject overturned and landed at the bottom of the adjacent storm drainage channel and caught fire. Fire Department Paramedics responded and extinguished the vehicle fire, after which the driver of the Chrysler was pronounced dead at the scene. The Orange County Coroner has not yet positively identified the deceased driver.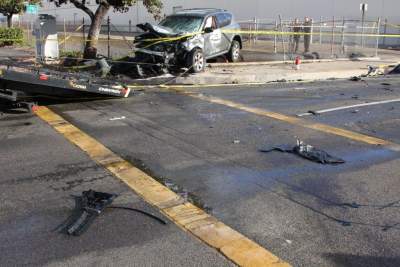 The driver of the Nissan was transported to the hospital for injuries sustained in the collision. The 19 year old driver is believed to have been driving under the influence of drugs at the time of the collision.
It is not yet known which of the two drivers ran the red light at the intersection. The Traffic Investigators believe there were potentially witnesses to this collision that left the scene prior to officers arriving. They are requesting anyone with information about this collision to call SAPD Traffic Investigator Weston Hadley at (714) 245-8216.
###