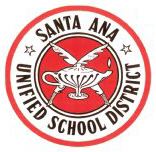 Santa Ana Unified School District
News Release
National Ratings Report Cites Santa Ana Unified School District as Financially Stable
(December 1, 2014) – The Santa Ana Unified School District's financial outlook is in good condition according to a reputable ratings firm that ranks the credit worthiness of businesses. Moody's Investors Service has affirmed the Aa3 rating on the district's CA's general obligation (GO) bonds and affirmed the A2 rating on the district's certificates of participation (COP) and removed the negative outlook on the financial state of the district from last year's rating. "The improved rating reflects the ongoing commitment and dedication of our Board of Education and staff to ensure that we remain fiscally solvent and continue to prepare our students for college and career and the global economy," said Stefanie Phillips, Ed.D., Deputy Superintendent of Operations of the Santa Ana Unified School District.
The affirmation and removal of the negative outlook reflects the improved state funding environment referred to as the Local Control Funding Formula. Through this formula, school districts with high populations of students who are English Learners, low-income, and identified foster youth are provided additional dollars to support the unique needs of these students. Approximately 60% of students in the Santa Ana Unified School District are English learners and 91% qualify for free or reduced-lunch. The Moody's Rating Report cited that while the district's reserves are not as high as in previous years, Moody's expects the district's finances to remain stable after the fiscal year 2015. In addition, the report cites that Moody's expects that the district's debt burden will remain manageable given its growing revenues and current debt structure, all positive indicators that the district is headed in the right direction with continued fiscal solvency.
Santa Ana Unified School District (SAUSD) educates approximately 56,000 students at 61 school sites throughout the Santa Ana community. The K-12 school district is the largest in Orange County and the second largest employer in Santa Ana, with approximately 4,500 educators and staff members. Contact us at 714-558-5555, or pioinfo@sausd.us. For more information about our schools, visit www.sausd.us.
For more specific details on the Ratings Report for the Santa Ana Unified School District or details about the district, please review the attached report and/or contact Deidra Powell, chief communications officer of the Santa Ana Unified School District at (714) 558-5555 or deidra.powell@sausd.us.
###