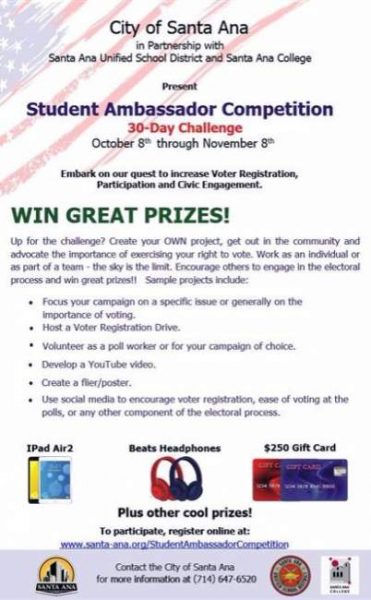 City of Santa Ana, Downtown Orange County
Community: Ready Set Start…. 30-Day Challenge of Student Ambassador Competition Starts October 8th
The City of Santa Ana is pleased to partner with Santa Ana Unified School District and Santa Ana College to sponsor the "Student Ambassador Competition" that is set to run from October 8 through November 8, 2016.
This competition will provide an opportunity for youth in our community, 13 to 21 years of age, to showcase their creativity and win great prizes by utilizing communication means that are relevant to our millennial's about the importance of voting and the electoral process. Participants have a choice of categories to select from including:
hosting a rally;
sponsoring a voter registration drive at their school, neighborhood, place of worship etc.;
developing a poster/flier;
using social media such as Facebook, Snapshat, using #SAYouthVote; etc.
Some of the prizes include: IPad Air2, Beats Headphones, $250 Gift Cards.
Please visit the website for more information at: www.Santa -Ana.org/StudentAmbassadorCompetition.
If you have any questions, please contact the Santa Ana Clerk of the Council Office at (714) 647-6520, during regular business hours.