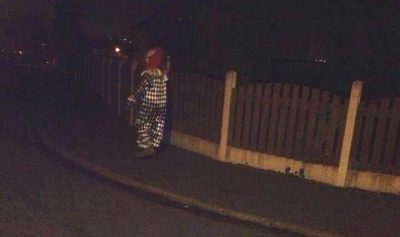 Clown hysteria has finally arrived at Santa Ana public schools. One of our readers is a local public school teacher at MacArthur Fundamental Intermediate School. She reported today what she called "the strangest experience in nearly 30 years of teaching." Apparently the teachers at her school were in their lounge, on a break, when a cafeteria worker screamed "Lock the doors! Call the police!" and numerous children were brought into the kitchen while the doors were locked. Outside, kids were running, screaming and some were even crying. The principal rang the nutrition bell early and one of the teachers proclaimed, "They have ruined my nutrition!"
The teachers and kids returned to their classrooms and spent the next ten minutes talking about clowns. Apparently there are numerous YouTube clown video stories that kids have been watching this week. The videos include stories of clowns cutting off dog's heads and clowns slicing people to bits. And there were reports that the killer clowns had come to California and they were going to kill every middle school child in the state.
Fortunately the situation at MacArthur finally settled down and the day concluded uneventfully.
However according to my friend one of her students swore that a clown spoke to him while he was at his locker, today, from behind an ivy covered fence. When he was asked how that was possible, he said that the clown lay on the ground and talked to him from the gap at the bottom of the fence. Another friend from another district recounted the story of a girl who clung to her backpack stating that she needed to run home to avoid the clowns.
My son, who is an 8th grader at a magnet school in Tustin, reported that a clown with a bloody face showed up at his school yesterday. That clown was seen hanging around the school's fence.
A student at Carr Intermediate reportedly brought a knife to school this week as he was afraid of the clowns.
Another local teacher reported that she was "standing at the office door letting and bringing the kids into the office! I got yelled At by an admin!!! I think there were about 300 kids storming us! He didn't want the kids in the office! Then four sixth graders were sobbing so I took them into the nurses office! I talked them down out of their hysterics then I walked each one to their 6th grade class! They didn't want to walk alone! What a day!"
A teacher at Lathrop Intermediate School reported that multiple students were showing up to school with bats and hammers today because of a picture of their school with clowns photoshopped in and a message that those clowns were coming to their school tomorrow was posted on social media.
Incidentally a father of two Lathrop students called me to say that he spoke to the principals at Lathrop and they denied that anything happened at their school.
I don't know if any of the clown news is real but the hysteria this is causing is becoming a problem at Santa Ana's public schools. Why hasn't the SAUSD addressed this?
Click here to read about other clown sightings in Orange County.