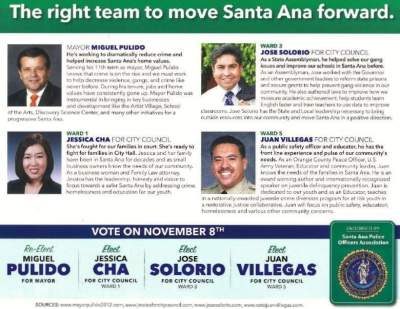 The biggest civic issue in Santa Ana, without a doubt, is the horrible rise in violent crime – ever since the current City Council majority took power. You might recall that they fired former SAPD Police Chief Paul Walters, after he saved our city from bankruptcy. That is when they hired the current overpaid City Manager, David Cavazos, who later got caught having an affair with a Santa Ana city employee in the Planning Department. And they hired inexperienced first-time Police Chief Carlos Rojas – who has been over his head ever since.
The current City Council majority also got rid of the SAPD's anti-gang squad. And look at the results. Shootings and stabbings just about every day. Over 800 crimes a week reported by crimemapping.com. The people of our city are afraid – and justifiably so. 
The Santa Ana Police Officers Association has had enough. They are endorsing a slate of City Council candidates who have promised to hire more police officers and to get tough again on criminals in our city. These candidates include: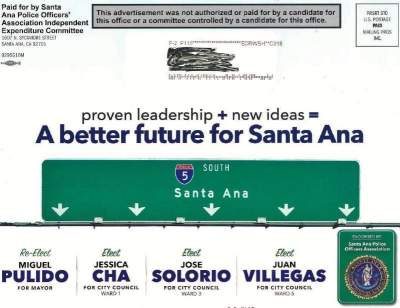 The Santa Ana Police Officers Association PAC just sent a campaign mailer promoting this City Council slate to voters, on Friday. This is a big deal as most of this year's City Council challengers have zero campaign money. I doubt that we will see many campaign mailers from them – but I do expect to see mail from the City Council incumbents, Roman Reyna and Vince Sarmiento.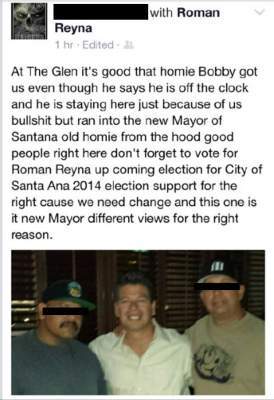 Reyna should be very worried as he voted against hiring more police officers this year. And the last time he was on the ballot, when he failed in his 2014 Mayoral campaign, we revealed that he had been pictured in social media hanging out with members of the Mexican Mafia. He steadfastly refused to answer why he was hanging out with them when the Police Association asked him about this. Reyna's brother allegedly died in prison and Reyna himself has admitted to having been shot once when he was at a park, in his youth.
Sarmiento should be worried too. He voted to hire Cavazos and Rojas and like Reyna he voted to put Measure PP on the ballot – a ridiculous measure that will give this lame City Council a 700% pay raise. Measure PP was designed to allow Reyna, in particular, to survive as a part-time City Council Member since he has not been able to hold a regular job. Who would hire him when he dropped out of high school and never learned any marketable skills?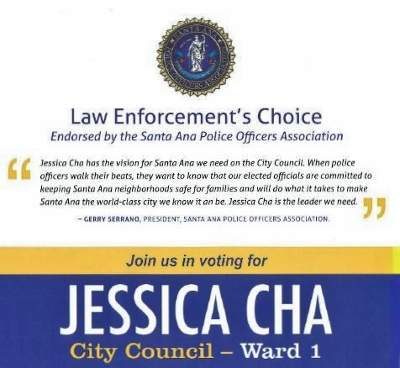 Sarmiento's opponent, Cha, just sent out a large full color campaign mailer on Friday. She is running an aggressive, serious campaign. Consider that four years ago Sarmiento barely beat an unknown lady who filed against him but then did not campaign. This time he is running against a fellow lawyer (who has a better lawyer rating) and she has the full support of law enforcement. Game on Sarmiento!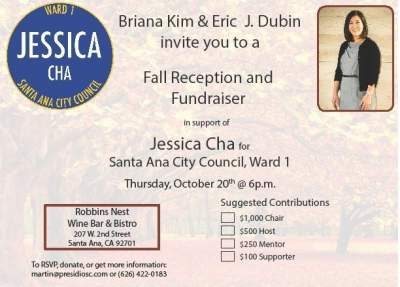 Incidentally Cha is hosting her second campaign fundraiser on Oct. 20, at 6 p.m., at Robbins Nest Wine Bar and Bistro, located at 207 W. 2nd St., in DTSA. The event is being hosted by Briana Kim of Briana Kim, PC and Eric J. Dubin of Dubin Law Firm. RSVP: Martin Medrano (626) 422-0183 or martin@presidiosc.com.
As for Pulido, he has drawn a challenger, Benjamin Vazquez, who is under-funded and who leans way to the left. Vazquez, like Reyna, does not support hiring more cops. That is all you need to know about him.