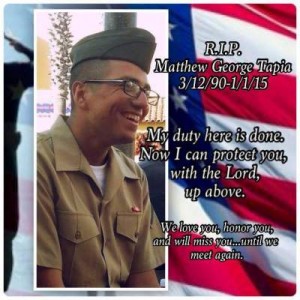 Photo Credit: Facebook, used with permission granted by the Tapia family
Two motorists, identified as Matthew George Tapia, 24, of Santa Ana, and Corina Villareal, 54, of Azusa, were killed Thursday at about 1:30 a.m.  in a head-on crash near Whittier at First Avenue, near Candlelight Drive, in the unincorporated county area, California Highway Patrol officials said in a written statement, according to the Whittier Daily News.
Tapia was the son of George and Anita Tapia, who are members of the Tustin Calvary Chapel Church.  He was home on leave from the U.S. Marines when the accident occurred.
The O.C. Register reported that Tapia was driving a red 1999 Isuzu Trooper south on First Avenue, approaching Candlelight Drive at an unknown speed when he apparently allowed the vehicle to drift to his left, across the double yellow lines and the crash occurred. Villareal was driving a Lexus IS 250 northbound on First Avenue when Tapia's vehicle crashed into hers.  She was borrowing her friend's car when the crash occurred, according to the Inside So Cal Blog.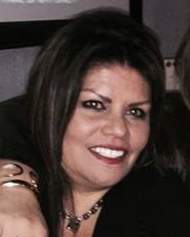 Photo Credit: Inside So Cal Blog
Corina Villarreal grew in Azusa, where she spend most of her life, and attended Azusa High School, family members said. She also lived in La Mirada for a period during a former marriage, according to the Inside So Cal Blog.
The CHP is investigating whether or not alcohol or drugs were involved.  Given the time of the crash it may well be that drowsy driving was a factor.
Funeral plans have not yet been announced.