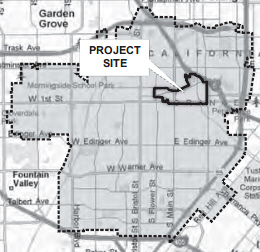 Santa Ana community activists are urging residents to attend tonight's Santa Ana Planning Commission meeting, at 5:30 pm, at the Santa Ana City Council Chamber, located at 22 Civic Center Plaza.
The topic of the meeting will be "Rezoning for Several Large Development Projects." 
Here is a note from former Santa Ana Historic Resources Commissioner Jeff Dickman, who lives in the French Park Neighborhood, explaining why this is an important meeting to attend:
The meeting will discuss the City's Draft Environmental Impact Report (DEIR) for a series of very large redevelopment projects located between Main Street, First Street, Civic Center and east of the Train Station. I encourage everyone to attend. When fully constructed these projects will build over 4,000 new housing units. A copy of the City's announcement of the availability of the Draft EIR and meeting is attached.
As currently proposed in the DEIR the project may demolish possibly dozens of vintage homes and other historic buildings within the impact area, many within the Lacy neighborhood.
The proposed zoning changes will likely have significant impacts on existing and future parks and open space, traffic and noise levels and cultural-historical losses in or near the Lacy, French Court, French Park and Logan neighborhoods.
If you have any questions feel free to call me at 714-240-0883.
Thanks,
Jeff Dickman