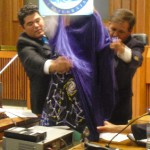 Santa Ana resident James Lynn was recognized this Monday, at the Santa Ana City Council Meeting, by Santa Ana Mayor Miguel Pulido, for inventing a new board game, Spingali, and also for his donations and volunteering at local schools and with the Boy Scouts.
Lynn has lived in Santa Ana for his entire life and he is a product of our local schools.
Click here to read more about Lynn and his board game.