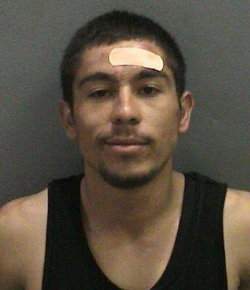 On May 23 at approximately 3 p.m. Fountain Valley police officers responded to a call of graffiti vandalism that had just taken place to the rear of 16111 Harbor Blvd., in Fountain Valley. Three male youths were seen leaving the area on bicycles and had been observed tagging the business with graffiti.
Responding officers located subjects on bicycles that answered the description given previously.
Extensive graffiti was observed by officers to the rear of the business and the subjects fled once they saw the police. Two of the subjects managed to make their escape but one individual abandoned his bike and was found hiding on a roof in a nearby condominium complex. When approached by officers that subject, later identified as Gustavo Estrella Rojo, 20, of Santa Ana jumped off the roof and continued to run.
Rojo was soon detained by other officers. Rojo, a Post-Release Community Supervision offender with outstanding no-bail warrants, was booked at Orange County jail on the warrants and charges of felony vandalism.
###