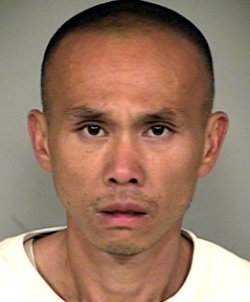 Phuong Ngoc Nguyen, a 41-year-old resident of Garden Grove, suspected of carjacking one car and trying to make off with a second while a child was in the backseat was arrested Sunday morning, in the area of 15th Street and Brookhurst Street, in Santa Ana, according to the O.C. Register.
At about 7 a.m., Phuong Ngoc Nguyen approached a victim at Brookhurst and 15th streets, demanding the person's vehicle, a red 1995 Toyota Camry, according to My News LA.
The suspect was arrested by the SAPD, after he hid in some bushes after a hit-and-run at Corta Street and Roberts Drive, with a vehicle that matched the carjacking victim's vehicle, according to CBS.
After crashing the carjacked Camry, Nguyen then allegedly tried to carjack another car, that was parked.  There was however a a man in the drivers seat and a young child in the backseat. The man in the car was able to remove his child before the suspect tried to get away.
One of the victims said that Nguyen had an object with him that resembled a gun.
Nguyen was arrested on two counts of alleged carjacking.