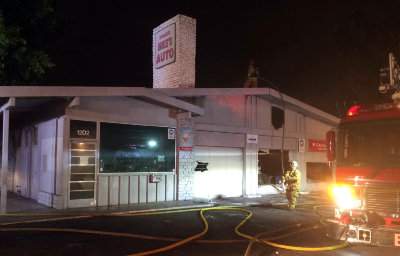 Mike's Automotive was badly damaged in a fire on Friday night at around 9:15 pm, according to the O.C. Register.
The Orange County Fire Authority Tweeted that they were able to knock down the fire with 27 firefighters, after the first alarm.
The fire apparently was caused by an electrical malfunction, according to Orange County Fire Authority Capt. Larry Kurtz.
The shop's garage was already completely burning when the first fire truck arrived.  Damage to the garage and a vehicle that was inside it as well as other contents is estimated at $300 K.
Mike's Automotive is located at 1202 E. Edinger Ave., in Santa Ana.