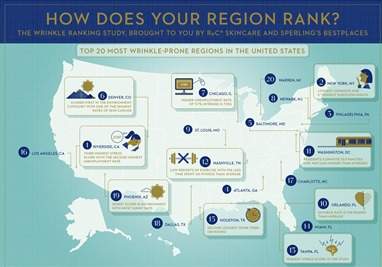 A study, just launched, might surprise Santa Ana residents! Are you ready for it…drum roll…Santa Ana is the third lowest wrinkle-prone region of the United States, according to the new "Wrinkle Ranking" study by RoC Skincare and Sperling's BestPlaces.
Just in time for summer, when many Americans are most concerned about their skin health, the study (based on regional factors such as stress levels, traffic commutes, diet and climate conditions) informs people across the country that their hometown may influence their skin's aging process. Not so sleepless in Santa Ana apparently! The region boasted the LOWEST number of sleepless nights.
NEW ROC® SKINCARE WRINKLE RANKING STUDY REVEALS HOW WRINKLES AND ZIP CODES ARE INTERCONNECTED
SKILLMAN, N.J., June 17, 2014 / PR Newswire / — RoC® Skincare, a pioneer in anti-aging innovation, unveils new data that demonstrates the correlation between geographic location and the formation of wrinkles. Created in partnership with independent research firm Sperling's BestPlaces, the RoC® Skincare Wrinkle Ranking Study outlines the 50 most wrinkle-prone regions in the United States and the underlying factors that may cause skin to age.
To identify which U.S. residents are most susceptible to wrinkles, RoC® Skincare conducted a meta-analysis of original and existing research to assess the impact of lifestyle, occupational and environmental elements on skin by region. In addition to factors commonly known to cause skin damage such as climate and pollution, the study also weighed unique criteria, including stress levels, traffic commutes and diet.
"People are widely aware of the dangers of UV exposure, so a natural assumption is that the Sunbelt states would automatically be at the top of this list," said New York City-based board-certified dermatologist, Dr. Erin Gilbert, MD, PhD, FAAD. "However, we sometimes forget that there are a number of regionally-based factors – not getting enough rest or working late hours – that can also take a toll on your skin."
While investigating which factors had the most impact on a region's ranking, the study results showed that no two areas' risk for aging skin are identical, despite proximity or similarities among cities:
• Riverside and San Diego are only two hours apart, but on opposite ends of the Wrinkle Ranking scale. Why? Riverside was placed first for having an above average number of sunny days while the mild Pacific climate landed "America's Finest City" in last place
• New York can proudly call itself the "Big Apple" for being the most populated region in the country. However, residents have the longest commute and third-highest number of sleepless nights, elevating Gotham City to the second most wrinkle-prone in America
• Denver earned the sixth position for scoring highest in the environment category. Mile-High City's residents have one of the highest skin cancer rates due to the thin air quality, which is less able to absorb skin-damaging UV rays
RoC® Skincare wants to broaden awareness that wrinkles are caused by a number of region-specific factors. Through appropriate precautions, individuals across the nation have the power to identify and manage these aging influences.
View the full RoC® Skincare Wrinkle Ranking Study results below and here. Click here to see why some regions ranked higher than others and share your score by using the #RoCWrinkleRanking hashtag.
Top 50 Most Wrinkle-Prone Regions in the United States:
1.Riverside, California
2.New York, New York
3.Philadelphia, Pennsylvania
4.Atlanta, Georgia
5.Baltimore, Maryland
6.Denver, Colorado
7.Chicago, Illinois
8.Newark, New Jersey
9.St. Louis, Missouri
10.Orlando, Florida
11.Washington, District of Columbia
12.Nashville, Tennessee
13.Tampa, Florida
14.Miami, Florida
15.Houston, Texas
16.Los Angeles, California
17.Charlotte, North Carolina
18.Dallas, Texas
19.Phoenix, Arizona
20.Warren, Michigan
21.Edison, New Jersey
22.Indianapolis, Indiana
23.Fort Worth, Texas
24.Boston, Massachusetts
25.Oakland, California
26.Las Vegas, Nevada
27.Nassau County, New York
28.Detroit, Michigan
29.Pittsburgh, Pennsylvania
30.Cincinnati, Ohio
31.Fort Lauderdale, Florida
32.Providence, Rhode Island
33.Cambridge, Massachusetts
34.Jacksonville, Florida
35.Austin, Texas
36.Sacramento, California
37.Seattle, Washington
38.Kansas City, Missouri
39.Columbus, Ohio
40.Milwaukee, Wisconsin
41.San Antonio, Texas
42.Virginia Beach, Virginia
43.San Francisco, California
44.Cleveland, Ohio
45.Portland, Oregon
46.West Palm Beach, Florida
47.San Jose, California
48.Santa Ana, California
49.Minneapolis, Minnesota
50.San Diego, California
# # #
About the RoC® Skincare Wrinkle Ranking Study:
To determine the metropolitan areas in the U.S. most likely to wrinkle skin, RoC® Skincare and Sperling's BestPlaces performed a meta-analysis, combining the findings of original and existing research. Lifestyle, occupational and environmental criteria that directly and indirectly relate to skin damage were used for the selection. The factors were equally weighted and grouped by impact and relevancy. All data was adjusted by the current population to arrive at "per capita" figures, and category scores were aggregated and weighted to determine an overall "RoC® Skincare Wrinkle Ranking" score.
About RoC® Skincare:
RoC® Skincare has been a leading French skincare brand for more than 50 years, devoted to developing anti-aging products that guarantee visible and lasting results for healthier, younger-looking skin. Considered a pioneer in visibly reducing the appearance of wrinkles, the brand was the first to stabilize and patent pure retinol in a cosmetic product and has continued to improve its aesthetics, tolerance and efficacy over the past 25 years. Strong partnerships with dermatologists have contributed to the brand's expertise in understanding skincare and developing clinically proven products, which are highly effective, yet suitable for most skin types.
Visit RoCSkincare.com and Facebook.com/RoCSkincare for more information on RoC® Skincare.
About Sperling's BestPlaces:
Bert Sperling has been helping people find their own "Best Place" to live, work and retire for nearly 30 years. His research firm, Sperling's BestPlaces, puts facts in the hands of the public so they can make better decisions about best places to live, work, retire, play, or relocate. He has authored bestselling books rating and ranking places, and his website www.bestplaces.net helps over a million visitors each month.