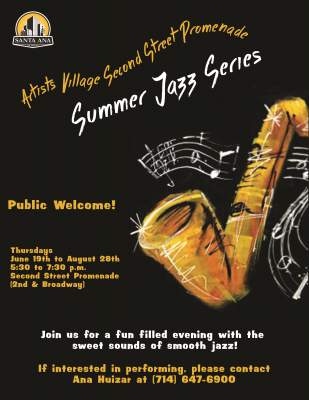 City of Santa Ana
Community Alert: Summer Jazz Series & More Upcoming Events
Join us for the first night of our Summer Jazz Series. A different artist or group will be featured each week. Tonight's artist is Peter Siebert. Jazz artists will perform every Thursday night from 5:30 to 7:30 pm starting on June 19, 2014 through August 28, 2014. Enjoy the City's award winning restaurants and jazz music at the Artists Village Second Street Promenade tonight!
New Summer Hours for the Farmer's Market
The Downtown Santa Ana Farmer's Market was recently featured in Orange Coast magazine and has quickly created a buzz. Located in the East End promenade by the Yost Theater, the market takes place every Thursday from 4-8 pm during the summer.
Local restaurants are sourcing from the market and creating fresh dishes around local faire. Some of the great items featured every week include fresh fruits and vegetables, specialty Asian vegetables from Brother's Farm, Tarte Paan desserts, vegan desserts, meat, specialty coffee, artisan bread, salts, oils, and more.
Veterans Resource Center Grand Opening
The Santa Ana Public Library, with the support of the State Library and in coordination with CalVet, will be opening a Veterans Resource Center on June 20th. The Center provides veterans an area to engage in researching benefits, completing applications, and, on occasion, meeting with veteran service organization representatives. The Veterans Resource Center is made possible in collaboration with Veterans Upward Bound at Santa Ana College.
We invite all veterans, their families, veteran support organizations, and the community to attend the grand opening of this valuable resource center in the City of Santa Ana on Friday, June 20th, at 3 pm and show our support and gratitude to all veterans. For more information, contact Milly Lugo at Mlugo@santa-ana.org.
Save the Date: City of Santa Ana Fourth of July celebration
Join the Mayor & City Council for family style fun and a spectacular fireworks show at the City of Santa Ana's 2014 Independence Day Celebration at Centennial Park from 4-9pm. The Independence Day celebration will feature live performances by the Rockabillys, Mango Band as well as the Santa Ana High School Band. The celebration will also feature a history walk, kids zone play area, civil war cannons and recognition of our Armed Forces. For more information, contact Enrique Marban at Emarban@santa-ana.org.
###