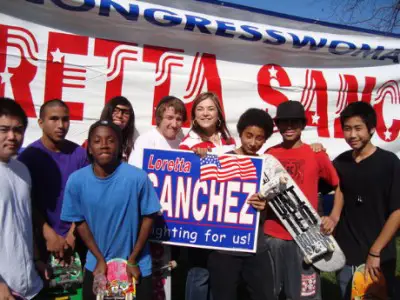 Congresswoman Loretta Sanchez, Representing California's 46th Congressional District
PRESS RELEASE, FOR IMMEDIATE RELEASE: June 19, 2014
MEDIA CONTACT: Barb Solish, 202-226-8373, Barb.Solish@mail.house.gov
REP. LORETTA SANCHEZ INTRODUCES BILL RESTORING STRENGTH OF PELL GRANTS
WASHINGTON – Congresswoman Loretta Sanchez (CA-46) today introduced H.R. 4902 the Middle Class 'Creating Higher Education Affordability Necessary to Compete Economically' (CHANCE) Act. The CHANCE Act would combat increasing college costs by 1) nearly doubling the national Pell Grant award to $8,900 from $5,730, 2) restoring year-round Pell grants, and 3) allowing Pell grant recipients to use the awards for 15 semesters instead of the current 12 semesters.
"As a Pell Grant recipient myself, I know that every dollar counts when you're trying to put yourself through college," said Rep. Sanchez. "In our changing economy, today's student is not necessarily full-time, living on campus, or between the ages of 18 and 22. The Middle Class CHANCE Act will increase access to higher education for all our students by restoring the strength and length of the Pell Grant."
When the Pell Grant was created in 1972 it covered the full cost of college. However, next year's maximum Pell award will cover the smallest share of college costs since the start of the program: just one-third of the cost of a public four-year college. And while college tuition across the country has grown as much as fifty percent from 2004 to 2014, state funding for public post-secondary institutions has steadily decreased. California's spending per student at state schools remains near the lowest point in more than thirty years. These factors have shifted the burden of higher tuition and cost of living to students, saddling them with increased debt.
Pell Grants make post-secondary options possible for millions of Americans, yet over the last five years Congress has continued to cut the programs funding. Rep. Sanchez's bill would address the significant loss in Pell Grants and combat increasing costs of college and student debt by:
1) Increasing the individual maximum award by $4,040 to $8,900;
2) Restoring year-round Pell grants, allowing students to receive funding for courses taken during the summer or intersession; and
3) Allowing Pell grant recipients to use the awards for 15 semesters instead of the current 12.
The bill currently has 40 cosponsors, including Reps. Cedric Richmond, Susan Davis, Raul Grijalva, Jan Schakowsky, Linda T. Sanchez, John Garamendi, Juan Vargas, Alcee L. Hastings, Grace F. Napolitano, Ron Kind, Charles B. Rangel, Yvette D. Clarke, Eliot L. Engel, Carol Shea-Porter, Steve Cohen, Eleanor Holmes Norton, Gwen Moore, Corrine Brown, Gloria Negrete McLeod, Rick Nolan, Mike Honda, William L. Enyart, Bobby Rush, Nick Rahall, Julia Brownley, Earl Blumenauer, Albio Sires, Sheila Jackson Lee, Chellie Pingree, Keith Ellison, Joaquin Castro, Jim Langevin, Gregory W. Meeks, Elijah Cummings, Rick Larsen, Jose E. Serrano, Ann Kirkpatrick, Robert A. Brady, Jerrold Nadler, and Alan Lowenthal.
###
Congresswoman Loretta Sanchez is proud to represent California's 46th Congressional District, which includes the cities of Anaheim, Santa Ana, and parts of the cities of Garden Grove and Orange in Orange County. She serves as Ranking Member of the House Armed Services Subcommittee on Tactical Air and Land Forces and the second ranked Democrat on the Committee on Homeland Security. Rep. Sanchez is also a member of the fiscally conservative Blue Dog Coalition and sits on the bipartisan, bicameral Joint Economic Committee.