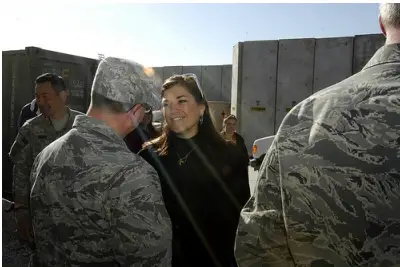 Congresswoman Loretta Sanchez, Representing California's 47th Congressional District
PRESS RELEASE, FOR IMMEDIATE RELEASE: March 1, 2011
MEDIA CONTACT: Adrienne Watson 202-309-0825
REP. LORETTA SANCHEZ QUESTIONS SECRETARY OF NAVY AT HOUSE ARMED SERVICES HEARING
Requests update on the Navy's ongoing efforts to integrate women onto submarines
WASHINGTON, D.C. – Congresswoman Loretta Sanchez (CA-47) received testimony today in the House Armed Services Subcommittee on Emerging Threats and Capabilities hearing from Secretary of the Navy Ray Mabus and Chief of Naval Operations Admiral Gary Roughead on the Fiscal Year 2012 National Defense Authorization Request from the Department of the Navy. Rep. Sanchez, who serves as Ranking Member of the Strategic Forces Subcommittee and is a strong advocate for expanding the role of women in the U.S. armed forces, questioned Secretary Mabus on the Navy's ongoing efforts to integrate women onto submarines by late 2011 or early 2012.
"Last year, the Department of Defense took a commendable step in reversing the ban that prohibits women from serving on Navy submarines," said Rep. Sanchez. "To ensure this change in policy is enacted smoothly, the Navy must move aggressively with plans to modify living accommodations on attack submarines and to prepare female officers with standard submarine training. Secretary Mabus assured me such steps have been taken, and I am happy, though not surprised, to hear this transition has thus far been successful. Male or female, we need the best possible service members onboard our submarines."
Congresswoman Loretta Sanchez is proud to represent California's 47th Congressional District, which includes the cities of Anaheim, Garden Grove, Santa Ana, and parts of Fullerton in Orange County. She serves as Ranking Member of the House Armed Services Subcommittee on Strategic Forces and a senior member of the Committee on Homeland Security. Rep. Sanchez is also a member of the fiscally conservative Blue Dog Coalition and sits on the bipartisan, bicameral Joint Economic Committee.
# # #
United States House of Representatives
1114 Longworth House Office Building • Washington, DC 20515
Phone: 202-225-2965 • Fax: 202-225-5859