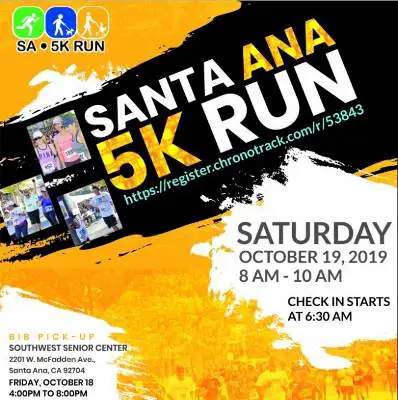 SANTA ANA – Join us for the 6th Annual Santa Ana 5K Run! This FREE event will take place on Saturday, October 19, 2019 from 8:00 a.m. to 10:00 a.m. beginning on Flower and Sixth Streets, directly next to the Santa Ana Stadium. Bring your family and friends out for a community fun run, passing by interesting landmarks such as the Santa Ana Civic Center, the Old Orange County Courthouse, and the Howe-Waffle House.
First, second and third place winners in both the men and women's divisions will receive a custom plaque. The first 2000 finisher will receive a custom medal to commemorate the event. Post – race refreshments will be provided to race participants. Those interested in participating in the FREE 5K run are encouraged to pre-register for an opportunity to receive a free event t-shirt. T-shirts and participant medals are limited and will be provided while supplies last. To register for the Santa Ana 5K Race, visit https://register.chronotrack.com/r/53843.

Pre-registered runners will have the opportunity to skip the lines on race day and pick up their runner's bib on Friday, October 18 at the Southwest Senior Center between 4:00 p.m. and 8:00 p.m. The Senior Center is located at 2201 W. McFadden Avenue, Santa Ana, CA 92704.
After the 5K run, all event attendees are invited to stay and visit the Health Resource Fair taking place between 8:00 a.m. – 10:00 a.m. on Flower Street. Local health and wellness organizations will be handing out free giveaways, discount coupons to classes or services and sharing exciting information on available community resources to stay fit, healthy and thriving in Santa Ana! Booth spaces are still available for health organizations who would like to participate in the Fair.
For more information on the Santa Ana 5k Run or the Health Resource Fair, visit www.santa-ana.org/events/SA5Krun or call the Special Events Office at (714) 571-4227.
#
SANTA ANA – ¡Acompáñenos a la 6ª anual Carrera de 5 Kilómetros (5K) en Santa Ana! Este evento gratuito se llevará a cabo el sábado 19 de octubre, 2019 de 8:00 a.m. a 10:00 a.m., iniciando en las Calles Seis y Flower, junto al Estadio de Santa Ana. Traiga a su familia y amistades a una divertida carrera comunitaria, pasando monumentos interesantes como el Centro Municipal de Santa Ana, la Corte Antigua del Condado de Orange, y la Casa Howe-Waffle.
Los ganadores del primer, segundo y tercer lugar en las divisiones de hombres y mujeres recibirán una placa como premio. Los primeros 2000 participantes en cruzar la meta recibirán una medalla conmemorativa del evento. Después de la carrera habrá refrescos disponibles para los participantes. Pre-inscríbase para tener la oportunidad de recibir una playera gratis. El número de playeras y medallas es limitado, se proporcionarán hasta agotar existencia. Para inscribirse gratuitamente en la carrera de 5K visite la página: https://register.chronotrack.com/r/53843.
Los corredores pre-inscritos tendrán la oportunidad de evitar las largas líneas el día de la carrera y recoger su dorsal el viernes 18 de Octubre, en el Southwest Senior Center entre 4:00 p.m. y 8:00 p.m. El Centro está localizado en 2201 W. McFadden Avenue, Santa Ana, CA 92704.
Después de la carrera, todos los presentes están invitados a visitar la Feria de Salud que se llevara a cabo de 8:00 a.m. a 10:00 a.m. en la Calle Flower. ¡Organizaciones locales de salud y bienestar estarán repartiendo regalos, cupones de descuento para clases y servicios al igual que compartiendo información sobre recursos disponibles para mantenerse en forma y saludable en Santa Ana! Todavía hay espacios disponibles para las organizaciones de salud que deseen participar en la Feria.
Para más información sobre la Carrera Santa Ana 5K o la Feria de Salud, visite www.santa-ana.org/events/SA5Krun o llame la oficina de Eventos Especiales al (714) 571-4227.