"​Chinese master action film director John Woo, who achieved cult status with Dip huet seung hung (The Killer) before taking on Face/Off, Mission: Impossible II and other American projects, makes a special appearance at the West Coast premiere of his new film Chi bi (Red Cliff) Thursday night at Regency South Coast Village Theatre," according to the OC Weekly.
This is the West Coast premiere of Red Cliff. The screening takes place on Thursday, October 15th, 2009 – 8:00pm, at the Regency South Coast Village Theatre, located at 1561 W. Sunflower Ave, in Santa Ana.
The film screening will be followed by a Q&A session with director John Woo. The vent is free to Orange County Film Society members. Only $10 for non-members. Tickets available here. Click here for complete details.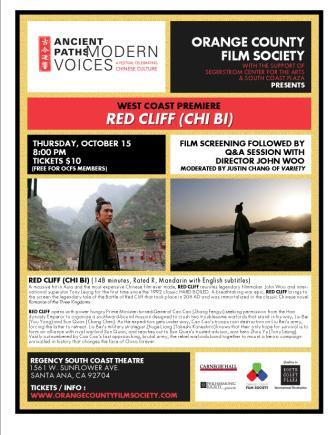 South Coast Plaza comes alive with dynamic displays of Chinese music, art, and tradition during Ancient Paths, Modern Voices: A Festival Celebrating Chinese Culture. The Orange County Film Society will present the West Coast Premiere of visionary director John Woo's latest epic adventure film, Red Cliff. A massive hit in Asia and the most expensive Chinese film ever made, Red Cliff reunites legendary filmmaker John Woo and internation superstar Tony Leung for the first time since the 1992 classic Hard Boiled. A breathtaking war epic, Red Cliff brings to the screen the lgendary tale of the Battle of Red Cliff that took place in 208 AD and was immortalized in the classic Chinese novel Romance of the Three Kingdoms.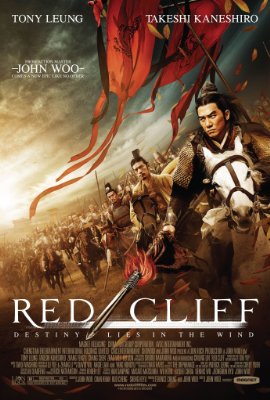 Click here for the full press release.