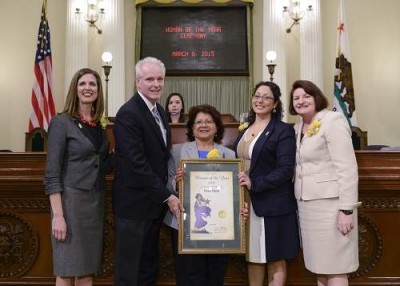 Assemblymember Tom Daly recognizes Pearl Raya of Santa Ana as the 2015 Woman of the Year for the 69th Assembly District
A lifelong resident of Santa Ana, Pearl Raya has dedicated her to life to improving opportunities for youth in her community
Pearl Raya is a lifelong resident of Santa Ana. She and her husband Leon are the proud parents of four children.
Pearl has spent her life supporting and mentoring families and children. She worked for the City of Santa Ana Parks, Recreation and Community Services Department for over 30 years, retiring in 2012. Pearl developed and managed programs for at-risk youth, families and senior, and she served as director of the Southwest Senior Center and Santa Ana Senior Center.
Pearl and her husband Leon founded Santiago Little League at El Salvador Park in Santa Ana over twenty-four years ago. Seeing the devastation wrought by gang violence, they organized local parents to take back El Salvador Park and once again make it a safe haven for families, much the way it was when she was a child.
In 2010, Pearl and Leon created the Santa Ana Aztecs Basketball Club, whose purpose is to provide basketball training and competition to local youth. The club was founded in response to the lack of an affordable basketball league in Santa Ana.
As a result of the overwhelming success of these efforts, Pearl and Leon founded the Rise Above Your Ambitions (RAYA) Foundation two years ago. The mission of the foundation is to develop successful local youth through athletic opportunities, academic support and family support. The foundation offers a basketball club and clinic, serving over 130 youth, in addition to an annual Santa Ana Youth Track and Field competition. Pearl also mentors parents in navigating the school system and understanding the requirements for college.
Pearl works part-time in the higher education office of Godinez Fundamental High School. At Godinez, she has been named "Parent of the Year" twice, has served as president of the football booster club, and has been a leader for the basketball boosters. Most recently, she began teaching a class at Cal State University Long Beach in serving diverse populations through recreation.
###