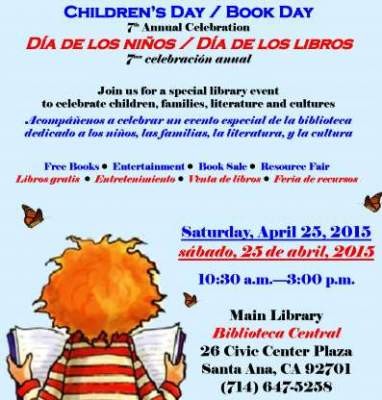 City of Santa Ana
Community Alert: Children's Day/Book Day Celebration at the Santa Ana Public Library – April 25th
On April 25, 2015 the Santa Ana Public Library will join hundreds of libraries across the country in celebration of Día de los niños/Día de los libros (Children's Day/Book Day). The celebration will showcase a variety of fun-filled activities and services for children and their families. This free community event will take place at the Main Library on Saturday, April 25, 2015 from 10:30 a.m. to 3:00 p.m.
The annual Día de los niños/Día de los libros (Children's Day/Book Day), known as Día, celebrates children, families, and literacy. Día emphasizes the importance of advocating literacy for children of all linguistic and cultural backgrounds.
Día is an enhancement of Children's Day, which began in 1925. Children's Day was designated as a day to bring attention to the importance and well-being of children. In 1996, nationally acclaimed children's book author Pat Mora proposed linking the celebration of childhood and children with literacy. Thus, began Día de los niños/Día de los libros.
"Libraries are part of the American Dream. They are places that support the community in their quest for education, self-improvement and lifelong learning," commented Santa Ana Councilmember and school teacher Angelica Amezcua. "Through literacy events, like Día, libraries are working with parents and community members to raise avid readers and life-long learners," she added.
The event is free and everyone is invited. The Santa Ana Public Library will offer a resource fair, free book giveaways, music, train rides, and games. The event will include authors Ramona Moreno Winner and Georgette Baker, as well as special performances by Celia Lawley: The Fiddle Girl, Illusions by Allen, Santa Ana Ballet Ensemble from the Academy of International Dance and a variety of other performances by local children from the community.
For more information on Santa Ana Public Library's Día event, please call Youth Services at (714) 647-5258 or visit www.santa-ana.org/library/youthservices/childrensday.
The Santa Ana Public Library is located at 26 Civic Center Plaza (corner of Civic Center and Ross).
###