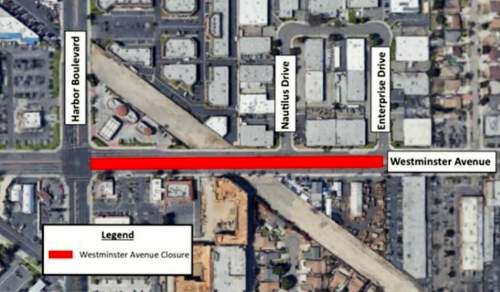 Crews are scheduled to remove falsework at the Westminster Avenue Bridge. For the safety of the crews and travelers, nightly full closures of Westminster Avenue will be in effect. Access to businesses will be maintained at all times.
WHEN: From Monday, October 12 through Friday, October 16, 8 p.m. to 5 a.m. each night.
WHERE: A full eastbound and westbound closure on Westminster Avenue, from Harbor Boulevard to Enterprise Drive, will be in place.
Please note, construction schedules are subject to change.
For any questions about the OC Streetcar project, please contact OCstreetcar@octa.net or (844) 746-6272.
Aviso De Construcción-Westminster Avenue
(NOTA: La siguiente información fue proporcionada por el Orange County Transportation Authority.)
QUE: Los equipos de construcción comenzarán a quitar la cimbra del puente de Westminster Avenue. Para realizar esta construcción, habrá cierres completos de Westminster Avenue cada noche. Se mantendrá el acceso a los negocios en todo momento.
CUANDO: Desde el lunes 12 de octubre, hasta el viernes 16 de octubre, de las 8 p.m. a 5 a.m. cada noche.
DONDE: Un cierre completo en la dirección este y en la dirección oeste estará en lugar en Westminster Avenue, desde Harbor Boulevard hasta Enterprise Drive.
Tenga en cuenta que los horarios de construcción están sujetos a cambios.
Si tiene alguna pregunta sobre el proyecto de OC Streetcar, por favor comuníquese con nosotros enviando un correo electrónico OCstreetcar@octa.net o llamando al (844) 746-6272.
Cảnh báo xây dựng-Westminster Avenue
GÌ: Tục xây dựng Cầu Westminster Avenue. Để hỗ trợ công việc này, việc đóng đường hoàn toàn đại lộ Westminster Avenue. Việc tiếp cận vào các cơ sở thương mại sẽ được duy trì mọi lúc.
KHI NÀO: Vào Thứ Hai, 12 Tháng Mười, đến Thứ Sáu, 16 Tháng Mười, từ 8 giờ tối đến 5 giờ sáng.
Ở ĐÂU: Trên Đại lộ Westminster Avenue, từ Đại lộ Harbor Boulevard đến Enterprise Drive.
Xin lưu ý, lịch trình xây dựng có thể thay đổi.
Mọi thắc mắc về dự án OC Streetcar, vui lòng liên hệ qua email: OCstreetcar@octa.net hoặc gọi theo số (844) 746-6272.