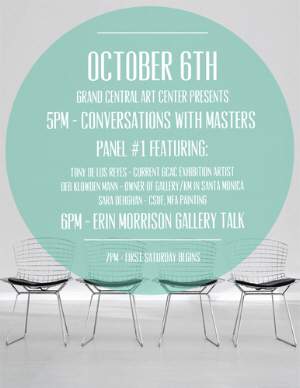 Panel, Gallery Talk, First Saturday Art Walk – Oct. 6 @ Grand Central Art Center
5pm – CONVERSATIONS WITH MASTERS: PANEL #1
Tony de los Reyes – Current GCACExhibiting Artist, "Border Theory"
Deb Klowden Mann – Owner of Gallery/KM in Santa Monica
Sara Dehghan – Current CSUF MFA Painting
Conversations with Masters are a series of panel discussion that will take place at GCAC. Placing current CSUF MFA students working on degrees in specific medium, in conversation with individuals currently successful in that medium, in conversation with individuals who play a role in decision-making within that field. For example: MFA artist, in conversation with a successful artist in the field, in conversation with a gallery owner; MFA theatre student, in conversation with actor, in conversation with theatre director/TV show creator; exhibition/design student, in conversation with curator, in conversation with museum director. Leading these conversations, the MFA students will direct the conversation, asking direct questions focused toward approaches for greatersuccess and opportunities in the field as they near and complete graduation.
6pm – ERIN MORRISON GALLERY TALK
Erin Morrison's current exhibition, Meditative Action, is currently on exhibition at GCAC through October 14, 2012. Morrison's recent body of work is a culmination of paintings ranging from what some might consider surrealistic landscape to magic realism, with slight experimentation in minimalism. The intent of the work is to reach beyond the dictum of paintings history through the categorization of genre, and to explore the identifiable borders established by the institution of studio practice. They portray a sense of loss or misunderstanding, as well as a feeling of upheaval, revealing the displacement that comes with living a somewhat nomadic life.
7-10pm – SANTA ANA'S FIRST SATURDAY ART WALK
Grand Central Art Center current exhibitions and galleries within Santa Ana will be open to the public throughout the evening.
GRAND CENTRAL ART CENTER MISSION STATEMENT
Grand Central Art Center is dedicated to the investigation and engagement of contemporary art and visual culture – regionally, nationally and internationally – through unique collaborations between artists, students and the community.
SUPPORT
Grand Central Art Center programs would not be possible without the generous support provided by:
William Gillespie Foundation, an anonymous donor and community collaborative partners.
PLEDGE TO SUPPORT GRAND CENTRAL ART CENTER
Quality exhibitions, artist in residence, programs and outreach of
Grand Central Art Center are made possible through the generous
support of individuals like you.
Please visit the following link and DONATE NOW to
Grand Central Art Center. Pledge you support of
quality and continued success!
https://www.fullerton.edu/foundation/gift/form.asp?Appeal=8GJ00/CSFPF&fund=Grand%20Centra%20Art%20Center%7C40003
Grand Central Art Center
a unit of Cal State University Fullerton's
College of the Arts
125 N. Broadway
Santa Ana, CA 92701