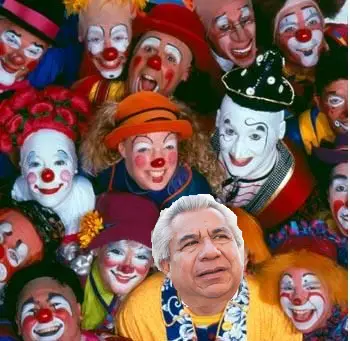 It has become increasingly obvious that the so-called "Santa Ana Spring" is actually a collection of Santa Ana politicians with different axes to grind, who have come together as their mutual petty hatreds have temporarily converged.  This alliance is a shaky one at best.
The drivers of this movement are failed Santa Ana mayoral candidate Al Amezcua, who resigned from the Rancho Santiago Community College District's Board of Education a few years ago, after he got caught living outside of the area he was elected to represent; Santa Ana Unified School District John Palacio, who survived the recall of his close friend and ally Nativo Lopez; Santa Ana Councilman Vince Sarmiento – who is bitter because he didn't run for the 69th Assembly District and who has designs on the Santa Ana Mayor's office; Santa Ana Council Member Michele Martinez, who was soundly defeated by Santa Ana Mayor Miguel Pulido back in 2008 – and who did poorly again this June as a candidate for the 69th Assembly District; and Council Member David Benavides, who is embroiled in a controversy regarding allegations of infidelity and divorce.
Why would this disparate cast of characters come together to challenge Pulido?
The Palacio/Amezcua faction certainly has not been close to the Council Members over the past few years.  In fact Amezcua sorely mistreated Martinez when she refused to endorse him against Pulido in 2010.  Now they are all back together, but it can't be a comfortable relationship.
Here is how this mess went down.  Palacio threatened a few weeks ago to run for Ward 3 on the Santa Ana City Council – a race which at the time featured only one Latino – Planning Commissioner Eric Alderete.  This turned out to be an empty threat but Alderete's supporters panicked.  They cut a deal with Palacio to keep him out of the Council election and in return they agreed to back Palacio's ally, Benavides, for Mayor – and Amezcua's daughter, Valerie, for the SAUSD School Board.
Councilman Sal Tinajero joined the cabal as well, in return for their pledged support for his sister, Myriam, for the SAUSD School Board.  However the Santa Ana Educators' Association (the teachers' union) recently endorsed Amezcua and the two incumbents – Rob Richardson and Jose Alfredo Hernandez.  They didn't endorse Tinajero.  Trust me when I tell you that this was Palacio's doing.  He has double-crossed the Tinajeros.  His goal is to elect Amezcua and only Amezcua.  There is more to Palacio's motives – but I am covering that in a subsequent post.
What about Benavides?  Well, he is getting played by Palacio and Amezcua too.  They have no interest in electing him.  Note that Alderete has already hosted three successful fundraisers.  Benavides?  None.  He is in the race just to pester Pulido – and he entered the race to keep Tinajero out of it.  Palacio and Alvarez know that Benavides is toast and they don't care.  Remember that they used Martinez in 2008 under similar circumstances.  At the time Amezcua wanted to see if Pulido was vulnerable.  Two years later, after using Martinez, Amezcua took on Pulido – and got his butt kicked.
Now Amezcua and company are back.  And if you think they are running his daughter for the SAUSD School Board for the right reasons, they you are wrong.  They will eventually run her for something else if she can fool the voters this November.   Like Roman Reyna, who was dragged into the "clown car" by his pal Benavides, she will at most serve one term on the SAUSD School Board, then look to move up and out.
The one candidate in this disastrous cavalcade that anyone really respects is Alderete – and he has quickly acted to distance himself from Amezcua and Palacio.  Smart move!