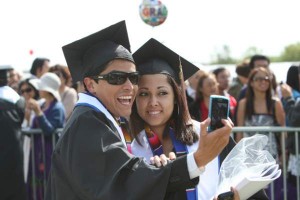 City of Santa Ana
Community Alert: Grand Opening of 1st of Its Kind Higher Education Center at Santa Ana Library Slated for this Saturday, May 17
(Santa Ana)— The City of Santa Ana and the Santa Ana Partnership—a collaboration of Santa Ana College, Santa Ana Unified School District, California State University, Fullerton; University of California, Irvine; Chapman University; and numerous community organizations—are planning for the launch of the Higher Education Center at the Santa Ana Public Library. The public is invited to the Center's grand opening on Saturday, May 17 at 1:00 p.m. at the Main Library, located at 26 Civic Center Plaza.
The One-Stop Higher Education Center, situated on the Main Library's second floor, will be a resource hub to help re-engage adults in the community with education with the goal of greater attainment of postsecondary certificates and degrees. According to the U.S. Census, 52.9 percent of Santa Ana residents have earned a high school diploma or higher; 11.6 percent of Santa Ana residents have earned a bachelor's degree or higher.
"The City of Santa Ana helped to launch the Santa Ana Partnership over 30 years ago and considers the new One-Stop Higher Education Center opening in the Main Library on Saturday, May 17th to be another great step forward for our community. There are currently 38,000 adults in our community who have started, but not finished college and another 46,000 who completed high school but never went on to college. We are committed to engaging with those members of our community and others to help make their dreams of a college degree come true," said Santa Ana Mayor Miguel Pulido.
The Higher Education Center will offer the following free services to all residents and families in Santa Ana:
• Workshops on how to access higher education in Santa Ana and Southern California;
• Information on how to attend college for free like thousands of other Santa Ana students;
• Access to a computer lab where residents can customize their search for the college that best matches their needs;
• Bilingual staff to answer questions about going to college.
The Center is funded in part by a grant from Lumina Foundation. In 2008 Lumina set a goal for the country: 60 percent of Americans with a quality post-high school credential by the year 2025. In keeping with Goal 2025, the aim of Lumina's community-based attainment work is to foster cross-sector collaboration in setting and achieving postsecondary attainment goals in communities across the nation. Santa Ana has been selected as one of the first 20 communities nationwide to receive up to $200,000 in the next three years to help dramatically increase the numbers of local residents with college degrees. The collaborative effort connects participating cities with significant technical and planning assistance, data tools, flexible funding and special access to a powerful network of national thought leaders. According to the Lumina Foundation, there is a direct connection between thriving cities and educational attainment beyond high school.
"Our vision for Santa Ana is to have a college degree in every home by 2025," said Erlinda J. Martinez, Ed.D., president of Santa Ana College. "Research tells us that increased educational attainment will lead to a stronger economy, higher individual earnings and a better quality of life for all. The support of the Lumina Foundation and the synergy created through the Santa Ana Partnership in concert with the City of Santa Ana has made the One-Stop Higher Education Center a reality. We can't wait to engage with community members at the Santa Ana Library and look forward to helping them to a brighter future."
For more information about the One-Stop Higher Education Center, contact Santa Ana College Outreach at 714-564-6141.
###